The Honorable
Marcelo K. Peterson
Governor's Mission Statement
Governor's Bio
August 22, 2019

Peilapalap Kolonia, Pohnpei— Late afternoon of August 22, 2019 , Governor Peterson administered the Oath of Office to the new board members of Personnel Review Board: Mr. Wallet Elias, Mr. Johnny Hadley Jr., and Mr. Kester James. The swore-in ceremony took place in the Governor's office at Peilapalap Kolonia.

July 22, 2019

This year Pohnpei State Department of Education hosted MTEC (Micronesian Teacher Education Conference) which was held at the Nett Elementary School, Nett district.

July 04, 2019

On July 4th 2019, The Honorable Marcelo K. Peterson, Governor of Pohnpei State, attended a wreath-laying ceremony at Pohnpei International Airport in honor of the fallen citizens of the FSM who gave the crucial sacrifice in their service in the U.S. Armed Forces.
May 15, 2019
The Honorable Marcelo K. Peterson attended an Opening Ceremony hosted by the Office of Fisheries and Aquaculture (OFA) on May 15, 2019. The Office of Fisheries and Aquaculture took engagement in a ceremony celebrating their indoors hatchery for the aquaculture development project for the Pohnpei State. Governor Peterson shared his appreciation through his keynote speech. Along with Governor Peterson is the Honorable Lt. Governor Reed B. Oliver.
May 9th, 2019
On May 9th, 2019, Governor Peterson joint a ribbon cutting ceremony for the renovated Kepiroi Waterfall and facilities for the tourists and local visitors. Governor Peterson expressed his gratitude on behalf of the Pohnpei State Government to the mwohnsapw Ispahu, Iso Nahnken, Likend, Nahnkeniei and all the traditional leaders of Madolenihmw, village chief, family, donors and all for their support in the success of Kepiroi Waterfall Renovation.
May 9th, 2019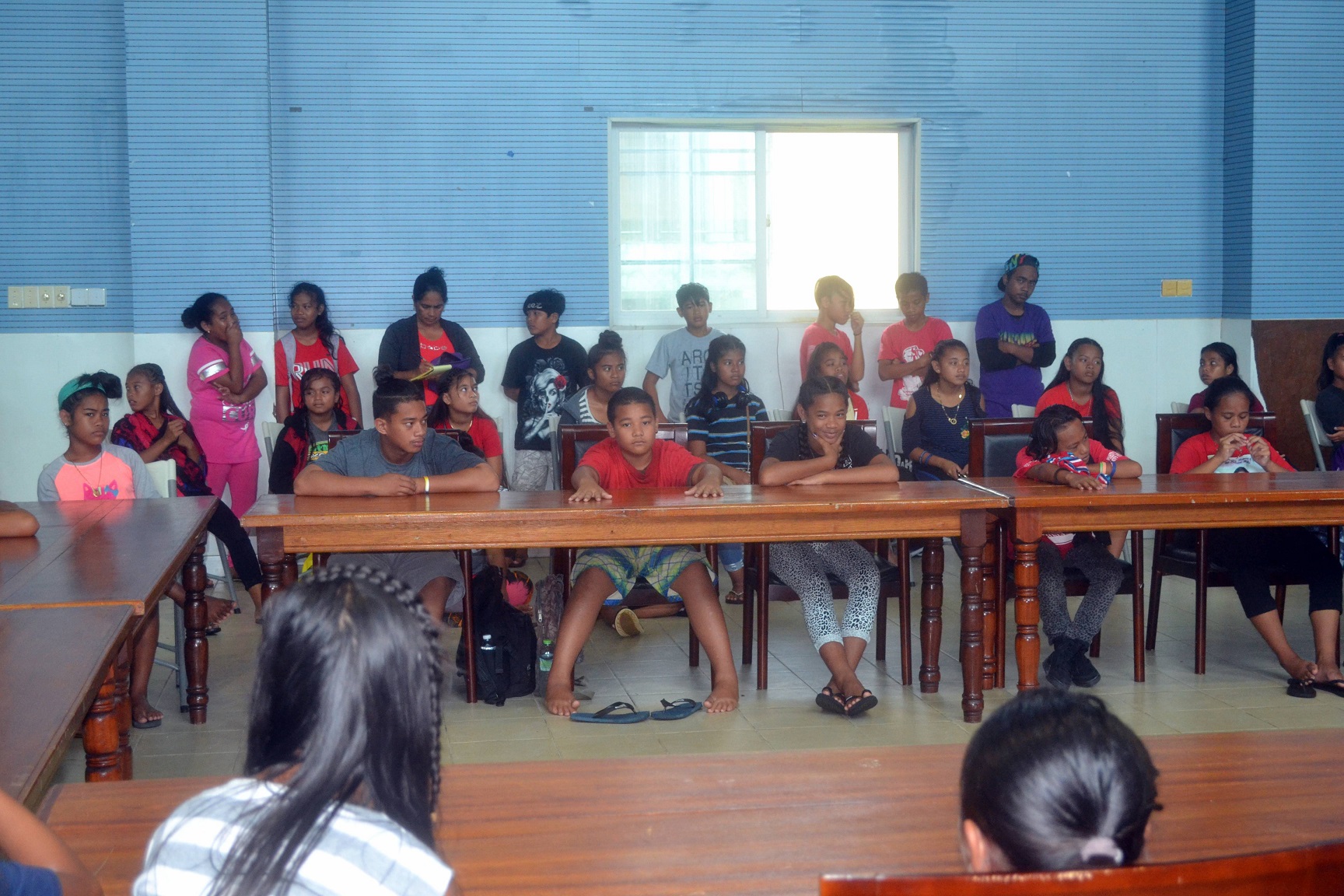 Pohnlangas elementary school students and teachers paid a courtesy visit to the Governor's Office, the Executive branch of government on Thursday May 9th, 2019, as a partial fulfillment to their course requirement. The sole purpose of the visit is to allow the young students to take an early close-up observation of how the Executive branch functions, to glimpse its purpose, and to comprehend its role and responsibilities. On behalf of the Governor Marcelo K. Peterson and LT. Governor Reed O. Oliver, Mr. Heinrick Stevenson welcomed the students and gave a brief introduction to about the compound in the conference room before a thrilling tour around the building.
April 10th, 2019
On April 10th, 2019 Governor Peterson joint the opening ceremony of the Technology for Tuna Transparency (T-3) Challenge Electronic Monitoring Symposium that was held at PMA Studio in Pohnpei State. The symposium was sponsored by the FSM National Government through the National Oceanic Management Resource Authority (NORMA), and by The Nature Conservancy (TNC), the Forum Fisheries Agency (FFA), and the Parties to the Nauru Agreement (PNA),the symposium explored how electronic monitoring (EM) fits into control and surveillance to support sustainable fisheries, how EM is presently being used in the Western and Central Pacific, EM in the seafood supply chain, how to scale EM for increased use in the FSM and the Pacific, and moving forward with a regional vision for tuna transparency through EM.
The Honorable Marcelo Peterson, Governor of Pohnpei State, delivered the welcoming remarks. In his remark he also stated that "If over 50% of the global tuna supply comes from our part of the world, then we must do everything it takes to ensure its sustainable management through the use of new technologies such as EM. EM will help assure us the long-term sustainability of these resources."
Those who attended the Technology for Tuna Transparency (T-3) Challenge Electronic Monitoring Symposium included Ambassadors and Ministers of sovereign nations, such as His Excellency George Fraser of Australia and His Excellency Alexis Maino of Papua New Guinea (PNG), and the Honorable Dennis Momotaro, Minister of Resources & Development for the Republic of the Marshall Islands, representatives of key local and regional partners such as the Western & Central Pacific Fisheries Commission (WCPFC) and regional stakeholders such as the Secretariat of the Pacific Community (SPC), Fiji Fisheries, the Australia Fisheries Management Authority (AFMA), and global partners such as the World Wildlife Fund (WWF) and the Global Fishing Watch.
PICS Freshmen Student Visit
February 28, 2019 , Pics underclassman (Freshman) students paid a visit to the Governor's office for a close-up observation of how the executive branch functions, and comprehend its role and responsibilities. The Honorable Reed B. Oliver, LT. Governor welcomed the students with a short speech of acknowledgement to pursuing what life goals.
February 25th, 2019
Fukuoka, Japan – On February 25th, 2019 the Japan International Cooperation Agency (JICA)completed its annual Hospital Management Training program at the St. Mary's medical center in Kurume City in Fukuoka Japan. This year's hospital management training program was attended by representatives from Benin, Laos, Cambodia, Quatemala, Ethiopia, Sudan, Targetistan and the Federate States of Micronesia (FSM). Pohnpei State Department of Health Services administration and health planning officer, Mr. Johnny Hadley Jr. represented the FSM and Pohnpei State Department of Health Services. The 37 days hospital management training course is part of the Government of Japan's bilateral cooperation agreement with the Government of the Federated States of Micronesia and other partner countries around the world. It is designed to assist hospital managers and people in leadership capacities from developing countries to design efficient and effective hospital management activities and changes necessary to improve health care services through the training program lectures, site visits and overall training and learning experience. Participants were also tasked to identify challenging issues and implement locally tailored solutions that will support ongoing programs and help improve the overall delivery of health care services.
Mr. Hadley's proposed project strategy is focused on improving the delivery of health care services by strengthening the management of resources and addressing the long term manpower development gaps. The project objectives are in line with the FSM National Framework for Sustainable Health Development Plan 2014-2024. It also addresses the Pohnpei State Strategic Development Plan (SDP) Strategic Goal number three (SG3: "To improve secondary health care services for citizens, residents and visitors"; SG4: "To improve health care provider capacity and accountability"; and under Public Service SG4: "To improve public sector productivity" Mr. Hadley is the second FSM national to participate in the JICA sponsored hospital management training program after Mr. Olfred John, also from Pohnpei attended the same training program in 2016.
February 1, 2019
Governor of Northern Marianas Island (saipan), H.E. Ralph Anthony Deleon Guerrero Torres, along with his fellow chiefs paid a courtesy visit to the Governor of Pohnpei, Marcelo K. Peterson on February 1, 2019. Governor Peterson welcomed the CNMI delegates and conveyed his appreciation to H.E. Torres for his keen interest in initiating a special training to the Pohnpei police.
January 30, 2019
On January 30, 2019, Governor of Pohnpei, The Honorable Marcelo K. Peterson paid a visit to the Pohnpei Catholic School and delivered an encouragement as well as inspirational speech to the upper-classmen and the intention is to steer students from negativities or distractions but further onto a more successful path. The Governor then further reflected on his school days to the students and explained the relevant moments of his journey which led to his successes in his life.
January 17, 2019
A grant signing ceremony was held at the residence of the Japanese Ambassador in Nan Pohnmal Sokehs district. H. E. Roichie Horie, Ambassador of Japan to FSM signed over the grant with the exact amount of one hundred eighty one thousand and three hundred and ninety four dollars ($181,394.00) to Pohnpei State Government for the intended purpose of constructing a Nanmadol visitor center dedicated for Nanmadol ruins tourist. Governor Peterson extended his gratitude on behalf of the people of Pohnpei State to the Ambassador and the whole nation of Japan for such gesture of contribution, the governor then further stated his hopes for these collaborations will strengthen the ties between two nations. In attendance during the ceremony was T. H. Marcelo K. Peterson, Isipahu (king) and Likend Kelekel (Queen), H. E. Roichie Horie, US Embassy representative, Madolenihmw Government representative, Kempa Foreign Affairs representative, FSM Historic Archives representative, Acting Director Dept. of Land as well as Legislator Neth and Kempa.
MOU SIGNING BETWEEN VITAL FSMPC AND POHNPEI STATE GOVERNMENT
(DEPT OF PUBLIC SAFETY - DIVISION OF FIRE & EMERGENCY SERVICES)
Pohnpei, Federated States of Micronesia, February 20, 2018 – Vital FSM Petroleum Corporation (FSMPC) and Pohnpei State Government, Department of Public Safety, Division of Fire & Emergency Services (DFES) entered into a Memorandum of Understanding (MOU), the terms of which include coordination on matters of interest such as safety preparedness and response, health and environmental protection, information sharing and capacity building. The MOU was signed into effect by the Honorable Governor of Pohnpei State, Mr. Marcelo Peterson, FSMPC Chief Executive Officer Mr. Jared Morris, and Director of Public Safety Mr. Benito Cantero.
During a brief signing ceremony, FSMPC presented a donation of ten, double jacket fire hoses and swivel nozzles to the DFES, equipment that the Division had identified as most critical for fire-fighting. Governor Peterson expressed his gratitude for the donation and for the new partnership of like-minded public servants.
Vital-FSM Petrocorp launched its strategic plan called VT2025 in 2016. One of the four strategic results areas is strengthened, mutually beneficial partnerships with government, NGO's and communities. "Our business exposes us to hazards such as flammable and combustible liquids, and our efforts and priorities remain with a focus on operational safety and asset integrity. This MOU is a small start to improving our preparedness and response capabilities in the event of an emergency," said Mr. Morris.