Enginkehlap News Excerpts 25-29 May 2020
You can listen to the audio version on V6AH's Facebook Page at 8 am and 4 pm: Click Here 
You can also listen to the Pohnpeian version anytime online:  Enginkehlap News Excerpts
---
After 11 months, construction on the Kahmar Bridge in Nett is complete. A final joint safety inspection is required before opening the bridge for public use.  The Pohnpei State Office of Transportation and Infrastructure will conduct the joint inspection with the FSM Department of Transportation, Communication, and Infrastructure and China Railway Construction Company (CRCC).  Additionally, engineering work on the Lukop, Madolenihmw to Kepine, Kitti secondary road project is complete. The next step will be to pave the road. Both projects have been generously funded by the People's Republic of China and the FSM National Government.

---
With the help of the Madolenihmw and Kitti Municipal Governments, Departments of Health and Social Services, Treasury and Administration, and the Pohnpei Transportation Authority, Pohnpei Utilities Corporation (PUC) are currently drawing up plans to rehabilitate the Pohnlangas and Wene Dispensaries. The Department of Public Safety is also helping with coordination and cooperation through the use of their fire trucks to transport water to the dispensary tanks and providing inmates from the Pohnpei rehabilitation center to help with the cleanup of the tanks. The proposed plans include new 1500 gallon water tanks, rehabilitation of plumbing, and new sinks.
---
On May 26, 2020, the Director of Education, Mr. Stanley Etse, updated Governor Oliver and the Pohnpei State COVID-19 Task Force on plans for the next school year 2020-2021.  The plan includes a blend of on-site learning with a limited amount of students in classrooms and distance learning on the internet, as applicable, or home-schooling.  On-site learning will involve dividing up the students into groups and limiting the school days.  Distance learning will involve utilizing the internet and sending lessons by email or uploading on the Department of Education's website.  Home Schooling will involve delivering lessons to homes.  All plans are in strict compliance with COVID-19 social distancing guidelines.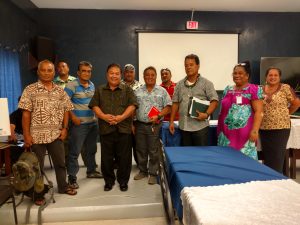 ---
Members of the Pohnpei State COVID-19 Task Force and the Judiciary & Governmental Operations Committee of the 10th Pohnpei State Legislature met at the Medical Monitoring Area (MMA) in Dekehtik on Tuesday, May 26, 2020. The Task Force representatives updated Senators on the progress of the containment facilities that will be used to quarantine incoming passengers. The visit was made following a public hearing to propose amendments by the 10th Pohnpei State Legislature to the current Constitutional Emergency Order (CEO) 20-02. The proposed amendments are provisions to regulate interstate travel and temporary enforcement measures, including penalties when Pohnpei has a confirmed case of COVID-19. The amendments, submitted under Legislative Resolutions 29-20 and 30-20 are still under review in the ongoing session of Legislature. The public will be updated on any amendments and developments relevant to CEO 20-02.
Senators from the 10th Pohnpei State Legislature who visited the MMA included Chairman of Judiciary and Governmental Operations, Senator Jack Harris, Floor Leader McGarry Miguel, Senator Dahker Daniel, Senator Marvin Yamaguchi, Senator Mitaro Simina and Senator Steve Joseph.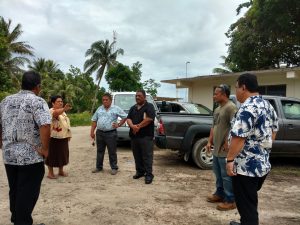 ---
Pohnpei State COVID-19 status: Pohnpei State continues to be in a state of emergency and there are no confirmed cases of COVID-19. Quarantine facilities at China Star Hotel continue to hold crew from fishing vessels who have sought emergency disembarkation, in accordance with Pohnpei Constitutional Emergency Order 20-02, and are closely monitored by Health and Security Personnel.  The Medical Monitoring Area (MMA) in Dekehtik is under construction with the help of PPA, PTA, PUC, and the U.S. Navy Seabees, and will serve as quarantine and containment center for Pohnpeian residents wishing to return home when the time is right. The Pohnpei State COVID-19 Task Force is currently working on standard operating procedures (SOP) to allow incoming passengers to disembark in Pohnpei. Pohnpei residents stranded in Hawaii and Guam have been asked to register at the FSM Consulates in preparation for their return home, in small, manageable groups in line with capacity limitations, on dates yet to be determined.
The Pohnpei Covid-19 Task Force will be coordinating these efforts with the National Covid-19 Task Force. Because of the numerous unprecedented disembarkations from fishing vessels, as long as fishing vessels are still in operation in Pohnpei ports, the State will not be able to foresee and have the assurance of adequate space in quarantine to bring anyone from Guam, Hawaii or elsewhere.   The US Centers for Disease Control and Prevention (CDC) has advised against quarantine co-mingling of individuals from low-risk areas, a category which fishing vessels currently fall under, and individuals from higher risk areas, a category which anyone come from a Covid-infected area would fall under.
---
On Wednesday, May 27, Governor Oliver sent a letter to the Speaker of the 21st FSM Congress, T.H. Wesley W. Simina. The letter expressed Governor Oliver's concerns over FSM Congressional Resolution 21-138.  The resolution allows fishing vessels to continue operating in Pohnpei waters and as a result, Pohnpei has seen an increase in cases from fishing vessels that require disembarkation and quarantine due to medical and other emergencies.  Governor Oliver requested a temporary halt of fishing activities at least until stranded Micare referral patients and their attendants return home.
---
The Pohnpei Covid-19 Task Force has been provided information on the number, location, and health status of all Pohnpeian resident crew on fishing vessels in the region. The Medical Team has advised that any Pohnpei resident crew wishing to disembark should immediately notify the proper authorities. Since the beginning of the ongoing pandemic, fisheries observers and crew wishing to disembark in Pohnpei and who fall under paragraph 6 of the Constitutional Emergency Order (CEO) have been allowed to disembark in most instances. As of this date, no Pohnpei resident has ever been declined disembarkation
---
On Wednesday, May 27, Chief executives from the local municipal governments and members of local NGO's were given a presentation by the U Corona Volunteers (UCV) on resiliency and preparedness for COVID-19. Governor Oliver commended UCV's presentation and plan as a model from which other organizations could observe and learn.
Chief executives present included Meninkehder Lapalap Madolenihmw, Luhk en Moanloap, Chief Minister Primo, Nett District Administrator Iriarte, Kolonia Town Mayer Jacob, Chief Magistrate of Nukuoro and Kapingamarangi and Luhk en Kolwof Sapwuafik.
Kalanghan O Kaselehlie