On Monday, September 7, 2020, the Kitti COVID-19 Task Force (KCTF) presented its Protection and Emergency Preparedness Response Plan to Governor Oliver, Lt. Governor Perman, and members of Pohnpei State COVID-19 Task Force at the Governor's Conference Room.
Leading the presentation was KCTF Chairman, Mr. Herman Semes Sr., Nahmadau en Dehd, Kitti. KCTF was created by Executive Order No. 1-2020 signed by Luhken Moanlap on August 14, 2020.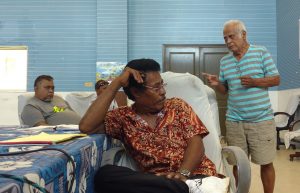 After providing a brief background and overview of the mission and vision of the Kitti Task Force, Chairman Semes shared their goals which included, consulting and partnering with relevant stakeholders, conducting awareness programs, creating a kousapw database, hand-washing, and accessibility to clean water 24/7, realistic approach to social distancing to be supported by leadership and people, Food security – long and short term, emergency contacts in all kousapws, curfew, quarantine, and funeral/human remains.
Governor Oliver and Task Force Chairman David thanked Chairman Semes and members for presenting their plans and goals to the Pohnpei State Task Force. The importance of social distancing was highlighted by Governor Oliver. He encouraged and called on KCTF members and everyone present to support and comply with this very important basic sanitary preventative measure, so others can observe and follow. He said the members of these Task Forces will help lead and prepare everyone to safeguard our people from this threatening health crisis. He then asked, "Mah sohte kitail, ihs? Ma kaiden met, iahd?".
Accompanying Luhk En Moanlap Antonio Sarapio and Chairman Semes were Vice-Chairman Mr. Destry Tom, Secretary, Mr. Wagner David, and Kitti Task Force members Mrs. Benida David, Mrs. Belsipa Isom, and Mr. Herbertson Santos.