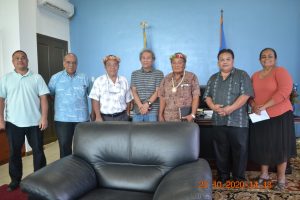 On Thursday, October 22, 2020, Governor Oliver and Lieutenant Governor Perman met with former Governor, Johnny David, Mr. Kiyoshi Phillip, and Ms. Christina Elnei representing the Board of Caroline Fisheries Corporation (CFC). The purpose of the meeting was to present Pohnpei State's share of CFC dividends to Governor Oliver in the amount of $412,285.71. Pohnpei State owns 42% of CFC.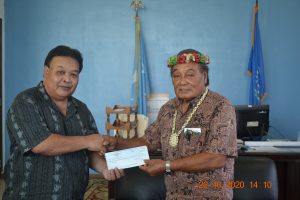 Governor Oliver welcomed former Governor David to Peilapalap and thanked him and Mr. Phillip for their visit. Governor David provided a brief background of CFC operations and the current state of the CFC fleet in Pohnpei, highlighting the crucial role that Mr. Milan Kamber played for the current success of CFC.
Governor Oliver thanked Governor David, Mr. Phillips, Ms. Elnei and the Management of CFC for the dividend check and their many contributions to Pohnpei State over the years. He also thanked Governor David for his leadership and mentorship in the past, allowing him to serve on various boards, gaining valuable experience and knowledge.
Joining Governor Oliver at the meeting with CFC was Lt. Governor Perman, Public Affairs Officer, Mr. Kapilly Capelle, State Budget Officer, Mr. Leon Panuelo Jr., and Financial Consultant, Mr. Kelly Keller.
For more information on this press release, please contact the Public Information Officer at 320-2235 or email: patrick.pedrus@pohnpei.gov.fm