Kalahngan to the Seniors of PICS High School who visited Governor Oliver today for their Career Exploration Week.  Two groups of Seniors along with their teachers: Mrs. Rhodora Bacalando and Mr. Dixon Donre, visited Governor Oliver and his staff at the Office of the Governor.
In welcoming the Seniors to the Governor's Office, he expressed his gratitude and thanks to their teachers.  He let them all know that the Governor's Office is their office, and they are always welcome.  
In response to a question asked by one of the Seniors about the position of Governor, he replied that it is a 24/7, 365 days per year x four years responsibility.  Governor Oliver advised the students that he is the current steward and custodian of the Governor position, and he expects one of the students to return from school one day to continue in the position.  He showed the students pictures of the former Governor's of Pohnpei and noted that there have been no female Governors, yet, but he encouraged the females present to aspire for such positions.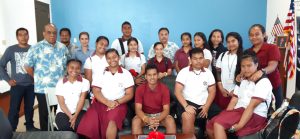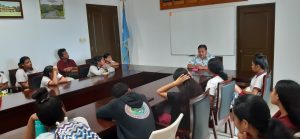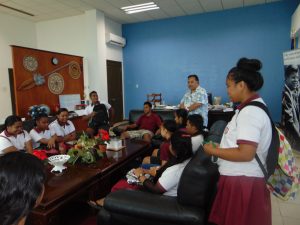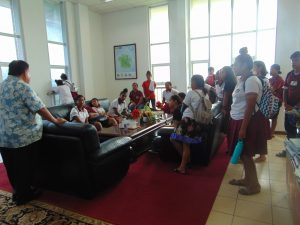 Governor Oliver advised both groups of Seniors to do their best in school, to get educated, and come back to Pohnpei.  He counseled the Seniors to pay attention to the small things because in doing so they will take care of the bigger things in their lives. He encouraged them to stay positive in their future endeavors, to stay away from those who would bring them down or steer them away from their goals.  "Always stay on the sunny side of life," he said. 
Joining Governor Oliver to meet the Seniors was Chief of Staff, Mr. Kapilly Capelle, Public Affairs Officer, Mr. Peteriko Hairens, Protocol Specialist, Mr. Billston Charley, Public Information Officer, Mr. Patrick Pedrus and Mr. Kihper Rosario from the Office of the Governor.