Please find posted the latest COVID-19 situation report.
Please note that each sitrep reflects the previous 24 hours' numbers and cumulative numbers.
3 deaths were reported in the last 24 hours. 8 deaths total since July 19, 2022.
306 new cases were reported in the last 24 hours. Down from 584 new cases reported the day before.
CDC specialists are on the island and will meet with Task Force and Health staff over the next couple of days to offer their expert assistance to Pohnpei's COVID-19 response efforts. Thank you to the CDC team for their time and assistance.
Please continue to put into practice these simple but very effective ways to prevent further spread of the COVID-19 virus:
1. Please stay at home as much as possible. Maintain physical distancing if you are in public.
2. Get vaccinated or boosted.
3. Wear a face mask properly.
4. Wash your hands often.
5. Should you have any flu-like symptoms please visit the Test to Treatment sites at PICS Gym, Kolonia CHC/Dispensary, and Pohnlangas Gym.
Early detection and treatment of COVID-19 are vital.
The previous situation reports are also posted below:
July 30, 2022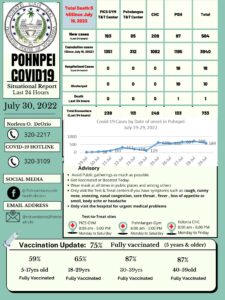 July 29, 2022
July 28, 2022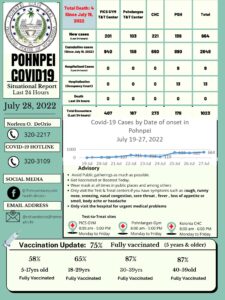 July 27, 2022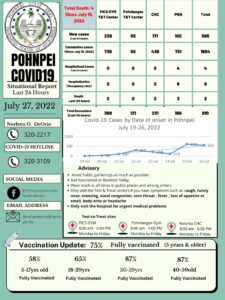 July 26, 2022
July 25, 2022