The UNICEF Pacific Representative, Mr. John Veitch, paid a courtesy call on Governor Oliver at the Governor's office.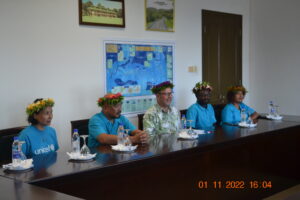 Mr. Veitch provided brief updates on UNICEF operations, explaining that a new country program for the Federated States of Micronesia is waiting to be approved.  He congratulated Governor Oliver and Pohnpei State for their COVID-19 response efforts, saying that immunizations played a major role in Pohnpei's response.  He noted school closures due to the COVID-19 pandemic have affected learning outcomes for students, highlighting the benefits of Early Childhood Education (ECE) to help with adjustment of learning outcomes.  Mr. Veitch also spoke of the WASH – Water Sanitation and Hygiene program in public schools that helps provide safe drinking water, constructs water treatment tanks and toilets. He thanked Governor Oliver for hosting the UNICEF office in Pohnpei.
Governor Oliver thanked Mr. Veitch for his updates noting that the points he mentioned are in line with Pohnpei State priorities.  Governor Oliver said he is looking forward to continuing working with the UNICEF office, noting the good work that UNICEF Chief, Cromwell Bacareza, has done in Pohnpei raising awareness for WASH activities in public schools and helping the Pohnpei State Department of Health with COVID-19 response efforts.
Joining Mr. Veitch, was Mr. Cromwell Bacareza, Mr. Pius Attandoh, Dr. Farrah Seid, Dechen Zam and Marson Rosario. Joining Governor Oliver was Norleen Deorio, Chief of Public Health, Petetriko Hairens, Public Affairs Officer, Acting Director of Education, Mr. Pressler Martine, Francisco Celestine, Executive Officer of the Pohnpei State Environmental Protection Agency (EPA), Shirley Ligohr, Overseas Development Assistance Coordinator and Emerson Eperiam, Protocol Officer.
Mr. Jonathan Veitch, a citizen of the United Kingdom, was appointed to the position of
UNICEF Pacific Representative in August 2021 and is based in Suva, Fiji. As the
UNICEF Pacific Representative, he oversees UNICEF's programs and operations
in Cook Islands, Fiji, Kiribati, Marshall Islands, Federated States of Micronesia, Nauru,
Niue, Palau, Samoa, Solomon Islands, Tokelau, Tonga, Tuvalu and Vanuatu.