On January 5, 2023, Governor Oliver attended a ceremony at the Embassy of Japan in Kolonia for the turnover of a $252,000 cheque from the Embassy of Japan to the Pohnpei State Government, Department of Education.  The amount which was sourced from the Embassy of Japan's Grant Assistance for Grassroots human security project will go towards the construction of a gymnasium at the Saladak Elementary School in U.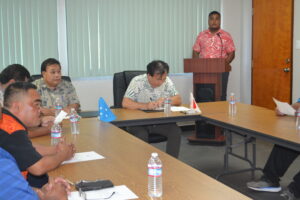 In his remarks, the Ambassador of Japan to the Federated States of Micronesia (FSM), H.E. Hisashi Michigami expressed his gratitude and appreciation for the opportunity through this project to contribute to the economic development and welfare of the people of the FSM, particularly in U.  Ambassador Michigami noted that in addition to having a place for children to play during the rain, the gymnasium will also benefit the community as a site for meetings and emergency shelter.  Ambassador Michigami ended his remarks with the good news that Japan International Cooperation Agency (JICA) volunteers will be returning soon to the FSM to assist with other projects and technical assistance and hoped that exchanges between our people will be back to normal.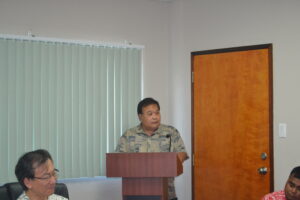 Governor Oliver delivered closing remarks for the ceremony echoing Ambassador Michigami's remarks on the great benefits of the gymnasium to the people of U and Pohnpei.  He expressed his sincere gratitude to Ambassador Michigami and the staff of the Japan Embassy for all their work and assistance to the people of Pohnpei over the years including the Palikir Elementary School project and for upcoming projects like the Pohnpei Port expansion and Nan Madol Information Center projects.  He acknowledged the work of the Overseas Development Assistance (ODA) Coordinator, Ms. Shirley Ann Ligohr, and her counterparts at the Japanese Embassy for their coordination and cooperation on this project.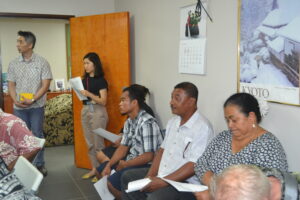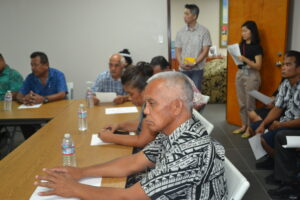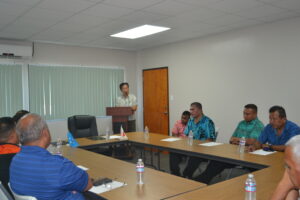 Also present for the ceremony was the Speaker of the 10th Pohnpei Legislature, Marvin T. Yamaguchi, Secretary of the FSM Department of Finance Administration, Hon. Eugene Amor, Pohnpei Senator Sonster Edgar, and  Pohnpei Senator Stevenson Joseph, Chief Minister of U, Rofino Primo and his wife, Speaker of U Council Olter Andon, Principal of Saladak Elementary School, Mr. Joseph Amor, Director of the Department of Treasury and Administration, Ms. Christina Elnei, Acting Director of the Department of Education Mr. Peter Ramirez, Public Affairs Officer Mr. Peteriko Hairens, Local Government Liaison Officer Ms. Suannrida Ladore, Protocol Officer and Master of Ceremonies, Mr. Emerson Eperiam.