More Than a Look
News & Artcles
Enginkehlap News from the Office of the Governor:
Joint National-State Task Force meeting - On April 20, 2020, members of the Pohnpei State COVID-19 Task Force met with the National COVID-Task Force at the DECEM conference room in Palikir. The purpose of the meeting was to discuss FSM Congressional resolution 21-38 and how Pohnpei State can support this resolution. The resolution extends President Panuelo's Public Health Emergency Declaration and introduces new measures to prevent the spread of COVID-19 in FSM. Among the issues discussed were social distancing, returning Micare referral patients, fishing vessels, cargo ships, and interstate travel. The State Task Force presented their concerns around these issues, with accompanying solutions to ensure harmony with the Congressional resolution and the National Task Force.
National Task Force Chairman and Secretary of Health and Social Affairs, Dr. Livinson Taulung thanked the Pohnpei State Task Force for sharing their concerns and started the meeting by saying, "We'll do the listening". He reassured the Pohnpei State Task Force that the National Government is committed to working with the states for the good of all our people to prevent the spread of COVID19.
Representing the State National Task Force was Task Force Chair Dr. Marcelle Gallen, Governor's Chief of Staff Mrs. Suzanne L. Gallen, Environmental Protection Agency Executive Director Mr. Henry Susaia, Pohnpei Port Authority (PPA) Seaport Manager Mr. Baron Mendiola, PPA Human Resource Manager Mr. Zorro Donre, Department of Health and Social Services Director, Mr. Wincener David, Task Force Medical Team Lead Dr. Padwick Gallen and Dr. Rodney Itaki.
Joint Leadership meeting with 10th Pohnpei State Legislature - On April 21, Senators from the 10th Pohnpei State Legislature (PSL) met with Governor Oliver, his cabinet, and the Pohnpei COVID-19 Task Force at the Governor's conference room. The purpose of the meeting was to update the 10th PSL on Pohnpei's COVID-19 response efforts, answer any questions the Senators may have regarding ongoing efforts and to seek Legislature's continued support. The Task Force and Governor Oliver provided the Senators an overview of all the actions taken since Constitutional Emergency Order 20-01 was signed on March 11, 2020, placing Pohnpei in a state of emergency and each amendment made. The third and latest amendment was discussed in detail. Governor Oliver explained that due to a shark bite injury in Oroluk, which was medically evacuated by a patrol boat that originated in Chuuk, and because Pohnpeian resident Observers on fishing vessels were in danger of being exposed to COVID19 infected countries, the third amendment was necessary to address these unique situations.
Governor Oliver wanted the Senators to understand that as we hold the line for Pohnpei with precautionary measures, we are buying time until the global situation calms or a vaccine is developed. While we buy time, we will strengthen our infrastructure and build our capacity with the legislature's continued support. The State Task Force members also shared the concerns presented the previous day at the Joint Task Force meeting in Palikir. Everyone agreed that the state, national, and municipal governments must continue to coordinate and align their efforts to protect our people.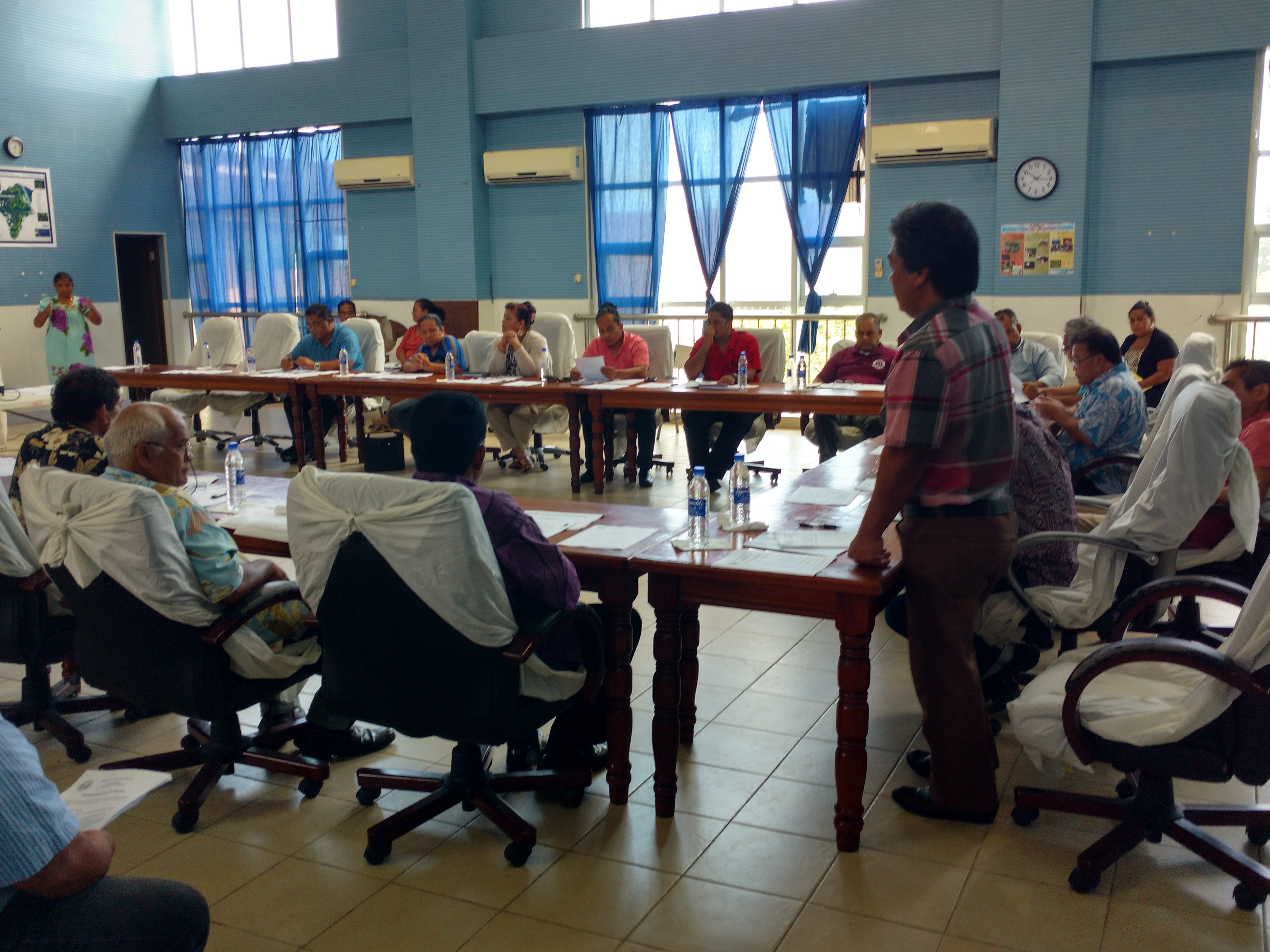 IT (Information Technology) Steering Committee meeting: On Wednesday, April 22, 2020, IT specialists from the State and National Governments met at the Governor's conference room for the first Pohnpei State IT Steering Committee meeting during the Oliver/Perman administration. The IT experts used this first session to brainstorm ideas on networking, fiber optic cable, emails, and faster internet speeds. The IT Steering Committee will be working with the Governor's Chief of Staff and Financial Consultant, Mr. Kelly Keller, to draft and implement a state IT policy that will ensure uniformity and efficiency. The meeting was facilitated by the current standing IT Steering Committee Vice-Chair, Mr. Kanoberson Asher, IT Manager for Pohnpei Community Health Clinic (Kolonia Dispensary).
Zoom video conference with President Panuelo and State Governors: On Wednesday, April 22, Lieutenant Governor Perman participated in a zoom video conference with President Panuelo, and the Governors of Yap, Chuuk, and Kosrae. The leaders discussed Congressional resolution 21-138, the President's recent extension of the national Public Health Emergency and social distancing. Pohnpei State will submit per the President's request health advisories, precautions and plans in the event of a confirmed case of COVID-19 in their respective states. The zoom video conference was a great opportunity to share information and harmonize with the national and state governments.
Pohnpei Consumer Organization (PCO) meeting with Governor: On Wednesday, April 22, 2020, Governor Oliver met with Mr. Henry Phillip from the Pohnpei Consumer's Organization (PCO). Mr. Phillip is the President of the organization and wanted to share his concerns about persons with disabilities during the COVID19 crisis. Mr. Phillip noted that persons with disabilities are at higher risk of contracting COVID19 due to barriers accessing information, reliance on physical contact and respiratory conditions caused by certain impairments.
The Pohnpei State COVID19 Task Force's Risk Communication Subcommittee is working with the Social Services and Mental Health Divisions within the Department of Health & Social Services to develop guidelines and awareness materials for persons with disabilities.
The Pohnpei Consumer Organization protects and promotes the human, civil and legal rights of individuals with disabilities through the provision of information and advocacy. The Pohnpei Consumer Organization supports people and Disabled People's Organizations through all four sister States of Micronesia (Kosrae, Pohnpei, Chuuk, and Yap).
---
Announcement for Social Security Beneficiaries:
This announcement is for all FSM Social Security monthly beneficiaries who receive their Social Security monthly benefits at the Pohnpei Branch Office.
Benefits distribution for FSM Social Security checks for April 2020 will be distributed in alphabetical first name order. The following are the designated days and the first name letters for all to comply with :
· April 27: Monday, first name letter A to D
· April 28: Tuesday, first name letter E to K
· April 29: Wednesday, first name letter L to P
· April 30: Thursday, first name letter Q to Z
Kindly observe and respect precautionary measures for COVID-19 to ensure distribution days will go smoothly and peacefully.
Thank you all.
---
FOR IMMEDIATE RELEASE:
Third amendment to Constitutional Emergency Order 20-01
Amending subsection (5) to provide further, that in the event of an emergency or unforeseen circumstances caused by accidents, force majeure, disease, illness, or other extenuating factors that may result in substantial risk, injury or loss of life to any person, the Department of Health and Social Services in coordination with relevant state agencies and the Pohnpei Task Force shall, on a case by case basis, undertake all required medical protocols and health measures relative to COVID-19 including risk assessment, quarantine or isolation requirements or a combination thereof deemed necessary prior to allowing any person entry into the state of Pohnpei.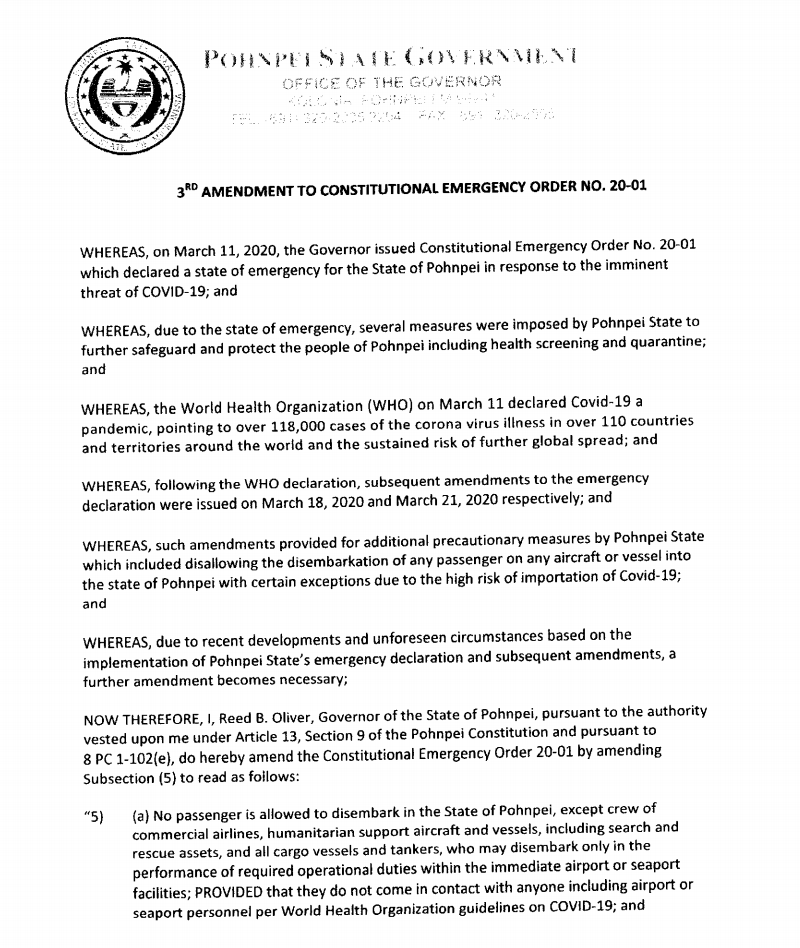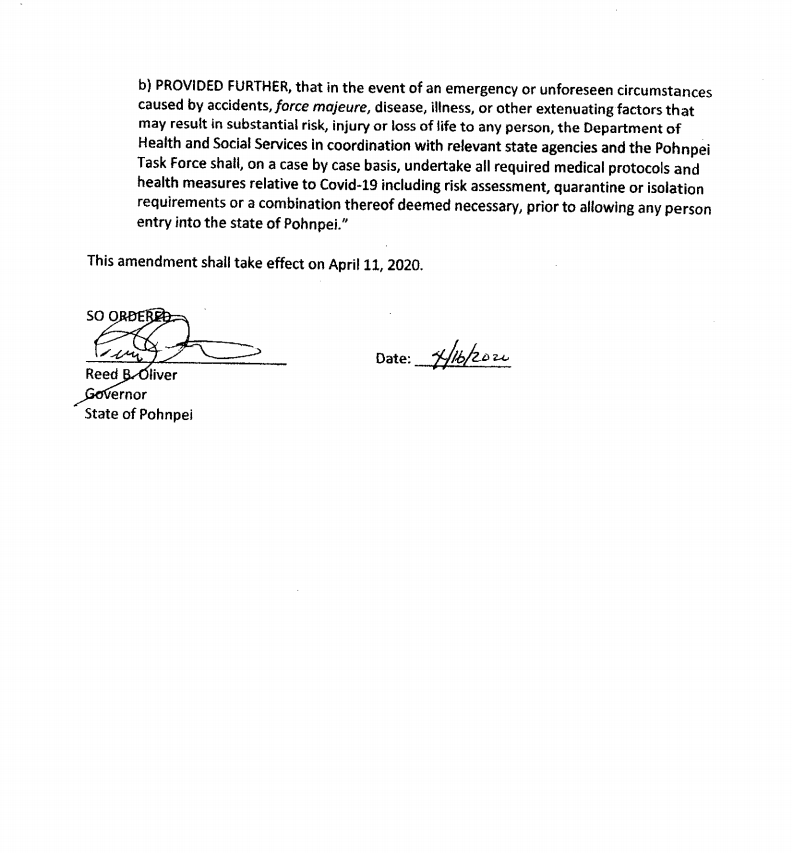 Election Commissioner and Director of Resources and Development sworn into office
Congratulations to the newest members of Governor Oliver's cabinet: Mr Heinrick Stevenson, Election Commissioner and Mr. Hubert Yamada, Director of the Department of Resources and Development.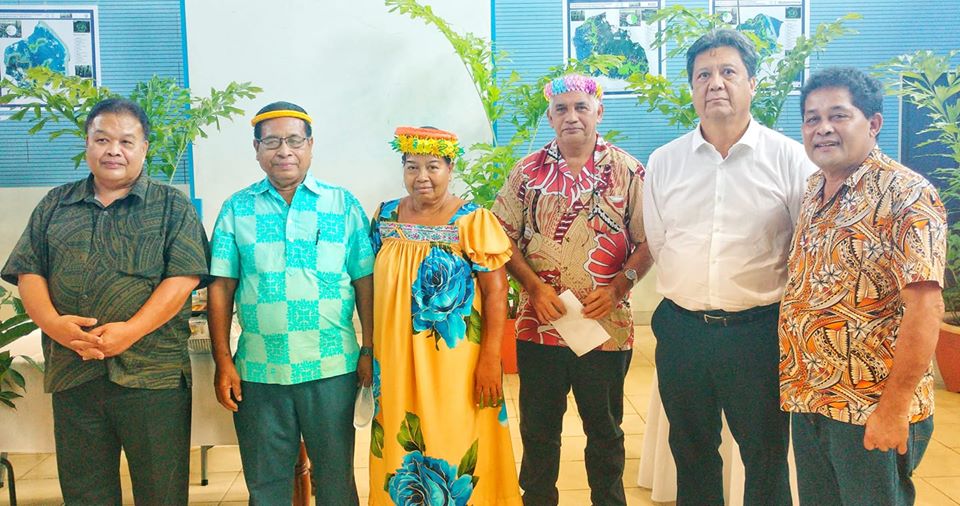 COVID-19 Question and Answer on V6AH
Kalanghan to our Pohnpei State COVID-19 Task Force Spokesperson, Mr. Joseph Saimon, Mrs. Kapriel and Ms. Saimon from Public Health, Ms. Manuel from Department of Education and the Risk Communication Team for coming up with this Q & A:
FOR IMMEDIATE RELEASE:
Please refer to the posted Legislative resolution 25-20.
"Amending Constitutional Emergency Order No. 20-01 by extending the period in which the amended order is valid in the realization that the risks are greater than ever of the COVID-19 pandemic reaching our shores with devastating effects on our people, our economy and our State."
The Constitutional Emergency Order is extended for a period of sixty (60) days counting from March 11, 2020.
Kalanghan to our 10th Pohnpei State Legislature.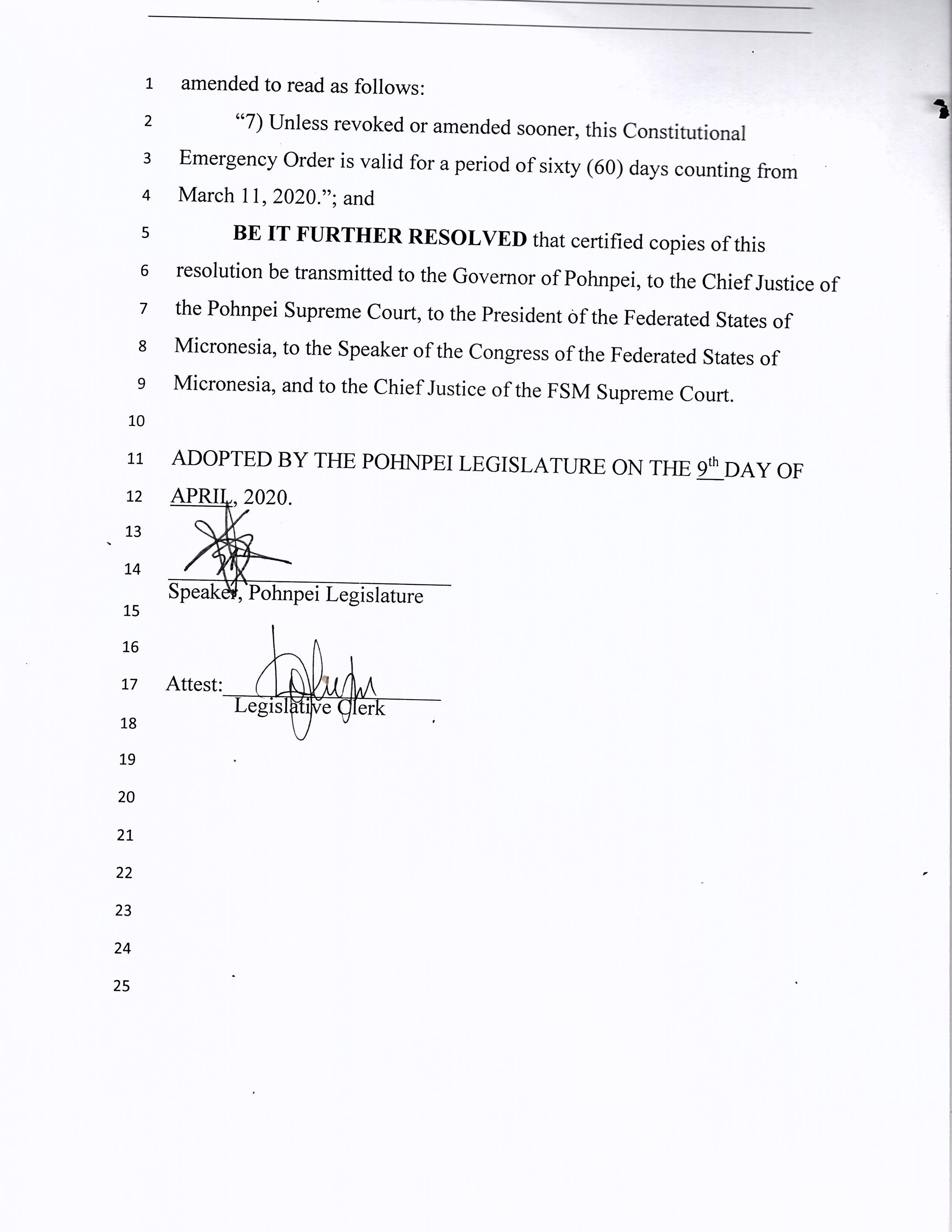 Micronesian Teacher Education Conference (MTEC)
Peilapalap Kolonia, Pohnpei— Late afternoon on August 22, 2019 , Governor Peterson administered the Oath of Office to the following to the new Personnel Review Board Panel members namely Mr. Wallet Elias, Mr. Johnny Hadley Jr., and Mr. Kester James. This swore-in ceremony took place in the Governor's Office at Peilapalap Kolonia, Pohnpei.
Governor Peterson shared to the crowd who gathered in his office to witness this swear-in ceremony the important duties of the Personnel Review Board Panel and he hope that those who have sworn in today will never forget the important of your new assignment. He went on and said, "your work will follow the law and regulations that govern our public service system and it is a hard task because you will need to be ethical and neutral and exercise great impartiality during your review of the personnel cases and rendering decision which will not to be biased."
Mr. Kester James, made a short remark on behalf of his colleagues and said, "Governor Peterson, Lt. Governor, Speaker Lambert and rest of the Legislators in the 9th Legislature, and all of us here it is a great honor and privilege to be here today and took the Oath as one of the board members of the Personnel Review Board Panel. He went on and said," because of the trust you and the legislature and everyone have in us for this important endeavor which led you to make the hard decision for appointing us and gave us your advice and consent and we certainly thank and indebted to you for all your good advices and trust. We ,…those who took the Oath today, .know how hard this role is with the decisions that should be attend to but still we are honored for your confidence in us and will do our very best to make better and rightful decisions. We will do our best as always and do welcome all the supports we can get from you while we will be engaging in our new duties. I want to thank our wives for their encouragement that we accept our new assignment and to do our best if our appointments are approved. He went on and said that his colleagues and him are the advocate of the true saying that "behind every man is a good woman", so thanks to our good women for their supports." Thank you and kalahngan, he concluded.
---
July 4th 2019 US Independent Day
This year Pohnpei State Department of Education hosted MTEC (Micronesian Teacher Education Conference) which was held at the Nett Elementary School, Nett district. In regards, The Governor of Pohnpei, T.H. Marcelo K. Peterson was given the honor and privilege in welcoming each distinguish guest from all four State of the Federated States of Micronesia. "Your presence here today, whether as a presenter or a participant, is a validation to how determined and committed you are in your line of work as an educator", said Governor Peterson. "Kalahngan, Kinisouchapwur, Kammagar, Kulo and Thank you all", Governor Peterson concluded his remark.
---
July 4th 2019 US Independent Day
On July 4th 2019, The Honorable Marcelo K. Peterson, Governor of Pohnpei State, attended a wreath-laying ceremony at Pohnpei International Airport in honor of the fallen citizens of the FSM who gave the crucial sacrifice in their service in the U.S. Armed Forces. Following the ceremony was a U.S. Independence Day celebration held at the U.S. Embassy in Kolonia, Pohnpei State, with the theme "A Salute to Veterans."
Governor of Pohnpei State, The Honorable Marcelo Peterson delivered a remark at the 243rd Celebration of the Independence of the United States of America at the U.S Embassy Compound, Nett , Pohnpei
On behalf of the people of Pohnpei and on my behalf, I extend our sincere congratulations as you celebrate the 243rd anniversary of the United States Independence Day.
The FSM and United States established diplomatic relations in 1986 after FSM gained its independence. The FSM and United States shared a long history in promoting democracy, human rights and the rule of law since the early days of the Trust Territory era. Our relationship is strong and enduring because of our shared commitment to democratic values and economic development.
---