On Saturday, October 17, 2020, Governor Oliver convened a special meeting at 9:00 AM in the Governor's cabinet room. The purpose of the meeting was to coordinate Pohnpei State Government relief efforts to assist the people of Kapingamarangi Atoll, who are currently experiencing an extended drought condition.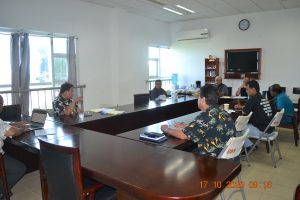 An initial damage assessment shared by the Director of the Department of Public Safety, Mr. Carl, classified Kapingamarangi's situation as a slow-onset natural disaster with exceptional drought conditions. Governor Oliver designated the Department of Resources and Development (R&D), Director Hubert Yamada, as the lead agency for Pohnpei State Government's response, with key Departments providing input and support to R&D.
Governor Oliver met with the Kapingamarangi Municipal Government Chief's representative, Mr. Andrew Lucky, at the Kapingamarangi Village meeting house on Friday, October 16, 2020, to receive updates from local leadership on the situation in Kapingamarangi and to coordinate joint efforts to assist the people of Kapingmarangi. He invited Mr. Lucky to the meeting the following day.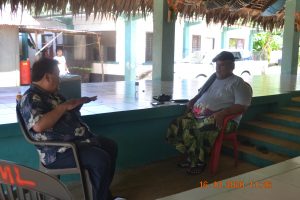 Discussions on the next step to take included providing water and food to Kapingamarangi as early as next week. The trip to Kapingamarangi will also provide an opportunity for further assessments by designated personnel from key Departments on water tanks, crops, health, communications, and other critical information to determine potential adverse impacts to better ascertain further relief efforts.
Formal communications have been transmitted to the Office of the President to assist with transportation.
Present at the meeting with Governor Oliver was Director of Public Safety Mr. Patrick Carl, Director of R&D Mr. Hubert Yamada, Director of Health and Social Services Mr. Wincener David, Director of Treasury and Administration Ms. Christina Elnei, EPA Executive Officer of Mr. Henry Susaia, PPBC Commissioner Mr. Peterson Sam, Chief Rep of Kapingamarangi Mr. Andrew Lucky, Chief of EFR Mr. Wendoline Linus and Public Affairs Officer, Mr. Kapilly Capelle.
For more information on this press release call the Public Information Officer at 320-2235 or email: patrick.pedrus@pohnpei.gov.fm.