On Friday, June 19, 2020, NMCB-5 Detail Pohnpei officially handed over the remaining shower and toilet facilities for the COVID-19 Medical Monitoring Area (MMA) at Dekehtik. Governor Oliver formally accepted the last set of shower and toilet facilities on behalf of the Pohnpei State Government, for a total of six toilet/shower combinations and four toilets and four showers stand-alone, portable facilities. This project began in April and as part of Pohnpei's Covid-19 response plan, was initiated to ensure restroom facilities are compliant with international standards for quarantine.
As a show of appreciation and gratitude, US Ambassador to the FSM, H.E. Carmen Cantor and members of the NMCB-5 team, led by Lieutenant Brian Wood, were invited to the Pohnpei Port Authority Conference room after the turnover ceremony and presented with Certificates of Appreciation by Governor Oliver and Speaker Lambert "In recognition of their outstanding service to the people of Pohnpei" during their extended deployment.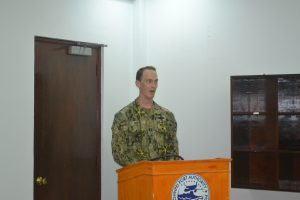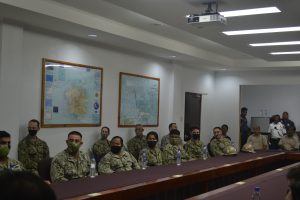 In his remarks, Governor Oliver thanked LT Wood and his team for their many contributions to the state of Pohnpei including the Saladak Dispensary, Pehleng Elementary School, Sokehs Powe Elementary School projects and others, including numerous community volunteer activities such as beach clean-ups, that they undertook during their nine-month deployment to Pohnpei. Speaker Lambert echoed the sentiments and added that their contributions are significant and beneficial to the people of Pohnpei now and for many years to come.
H.E. Carmen Cantor, U.S. Ambassador to the FSM, also gave a brief statement of thanks to LT Wood and his team and Governor Oliver, highlighting the continued cooperation and special friendship between the USA and FSM.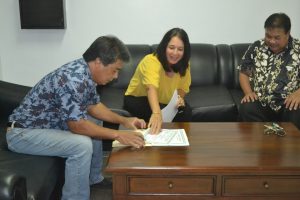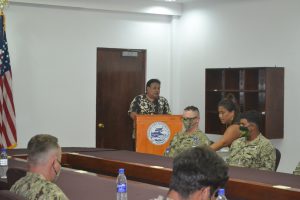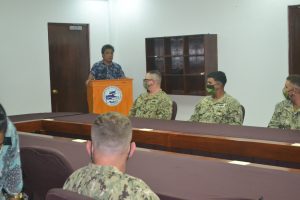 LT Wood presented Governor Oliver with a small token of appreciation from the team, a set of NMCB-5 work shirts with a map of Pohnpei. Thank you and kalahngan lap to NMCB-5 Detail Pohnpei and US Embassy Kolonia.
For more information on this story, please contact the Public Information Officer at 320-2235 or email: pohnpeipublicinformation@gmail.com