Enginkehlap News Line up:
Virtual conference with JCRP

Wiekupwur en Mwoalen Wahu Ileilehn Wein Pohnpei

Virtual conference with President Panuelo and State Governors

COVID-19 Donations

Updates provided to the Governor's Office
You can also listen to the news in Pohnpeian: Enginkehlap News Excerpts
---
1.Monday, June 1, 2020 – Governor Oliver joined a virtual conference with the Joint Committee on Compact Review and Planning (JCRP).  Chief Negotiator and FSM President's Chief of Staff Leo Falcam, Jr. and JCRP Chairman, former Ambassador AsterioTakesy, shared a broad timeline for compact re-negotiations this year.  Chairman Takesy said the next three months would consist of virtual meetings with the U.S. Compact negotiation team and depending on the COVID-19 situation, face-to-face meetings will take place later in the year followed by outcomes in January 2021.  Governor Oliver thanked the JCRP for the updates and noted that he would be coordinating with Pohnpei's JCRP representative, FSM Congress Vice Speaker Esmond Moses, and former Speaker of the FSM Congress, Mr. Bethwel Henry, for input and updates as negotiations move forward.  Also on the call, were the Governors of Kosrae, Yap, and Chuuk.  Attending the zoom conference with Governor Oliver, was Lieutenant Governor Perman, Public Affairs Officer, Kapilly Capelle, and External Grants Coordinator, Ms. Shirley Ligohr, Chief of Staff Suzanne Lowe Gallen and PIO Patrick Pedrus.
---
The Royal Council of Chiefs of Pohnpei, MwoalenWahu, requested a meeting with the COVID-19 Task Force.  Chairman and Director of the Department of Health and Social Services, Mr. Wincener David, and Vice Chairman and Director of the Department of Public Safety, Mr. Patrick Carl attended the meeting.  Updates were provided on the repatriation of Pohnpei residents and two resolutions to amend Constitutional Emergency Order (CEO) 20-02 being proposed by the 10th Pohnpei State Legislature – the first concerning social and physical distancing mandates and penalties when the first positive case reaches Pohnpei and the second regarding interstate travel.  The Chair and Vice-Chairman informed the Mwoalen Wahu that equipment and material for the Medical Monitoring Area (MMA) in Dekehtik are being ordered while the grounds are being prepared to accommodate 30 container units for quarantine.  The resolutions are still pending approval by the 10th Pohnpei State Legislature, in their ongoing current session.
Present at the Royal gathering: Isipahu, IsoNahnken Madolenihmw, IsoNahnken U, IsoNahnken Nett, Likend Madolenihmw, LuhkenLengso, Dauk Kitti, IsoNahlaimw Madolenihmw,Nahnmadau en Idehd Kitti, Nante Kitti.  IsoNahnken Nett is the Chairman of the Mwoalen Mwahu.
---
On Thursday, June 4, 2020, Governor Oliver and Lieutenant Governor Perman participated in a virtual conference with President Panuelo and the State Governors of Chuuk, Kosrae, and Yap. Also joining the conference were COVID-19 Task Force Chair and Director of Health and Social Services, Mr. Wincener David and Chief of Staff, Mrs. Suzanne L. Gallen. The discussion topics included the planning progress for financial assistance to stranded FSM citizens, current readiness status and COVID-19 preparedness, recently adopted congressional resolution amending the emergency declaration, and the Pandemic Unemployment Assistance program update.  Governor Oliver received confirmation from President Panuelo that the FSM National Government will be supporting COVID-19 testing abroad before currently, stranded citizens return from COVID-19 infected areas.  Chair David updated the President on the progress of the Medical Monitoring Area (MMA) and readiness to receive returning residents.  While the MMA estimated completion time is in August 2020, he did note that due to limited capacity, only a controlled, pre-determined number of returning residents would be allowed to disembark in Pohnpei once travel restrictions are lifted.  Chair David noted that Pohnpei's quarantine facilities are still receiving fishing vessel crewmembers who are disembarking for medical emergencies and injuries.  Governor Oliver conveyed to President Panuelo that while the new Congressional Resolution 21-149 presents challenges for preparation and readiness to receive Pohnpei residents, because of the continued fishing operations in Pohnpei waters, Pohnpei State will continue to align response efforts with the National Government, to protect and safeguard the people.   A brief update on the Pandemic Unemployment assistance was shared by Secretary of Finance, Mr. Eugene Amor, who later met the Governor and other Pohnpei State Government officials to share further details of this new program.
---
COVID-19 Donations: The Governor's Office and COVID-19 Task Force are grateful for the generous donations from local businesses and organizations, which will greatly assist with Pohnpei's COVID-19 response efforts. The Office of the Governor would like to thank the following businesses and organizations for their generous donations to date:
Pohnpei Hardware – 500 face masks
FSMTC – 2000 face masks
Marcela Foundation – 10,500 face masks + additional numbers to be confirmed
Yoshie Enterprises – 500 face masks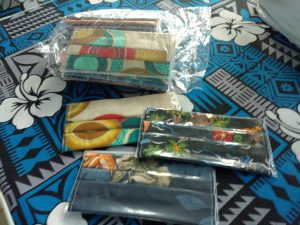 A detailed list of donations to Pohnpei State Government from resident Embassies and international organizations can be found here: https://drive.google.com/file/d/1nKyYLgZuF5_WVqIvcj7vTzayXZkYCmsI/view
Here are updates provided to the Governor's Office from some of our Pohnpei State Government Departments and Offices:
The Pohnpei Transportation Authority (PTA) has been busy patching potholes across the island. Most recently, PTA was busy repairing numerous potholes on the pavement in Nett, from Genesis Hospital to the Nett District Government Office buildings.  PTA is also helping Pohnpei Utilities Corporation (PUC) and Pohnpei Port Authority (PPA) with the ongoing design and construction of the COVID-19 Medical Monitoring Area (MMA) in Dekehtik.   The Commissioner of PTA is Mr. Welson Panuel.
The Environmental Protection Agency (EPA) recently disinfected an incoming cargo vessel, the Kyowa Stark as part of the Pohnpei State Government's continuing COVID-19 response prevention efforts.  The Executive Director of EPA is Mr. Henry Susaia.
Department of Resources and Development: A total of 78 farmers visited the Agriculture office and received services from our Agriculture staff including seeds, animal medications, fertilizers, seedlings, and tractor services.  The Director of the Department of Resources and Development is Mr. Hubert Yamada.
Department of Health and Social Services: Construction of walkways to the isolation rooms at the Pohnpei State Hospital is complete, with roofing currently being placed by the contractor.  The Director of the Department of Health and Social Services is Mr. Wincener David.
Department of Education: Training is being conducted for teachers on distance learning using the Google classroom program, as school Principals continue to work on preparations for the next school year.  The Director of the Department of Education is Mr. Stanley Etse.
Kalanghan O Kaselehlie