On Wednesday, September 23, 2020, Governor Reed B. Oliver officially received the donated equipment from H.E. Hidenobu Sobashima, Japanese Ambassador to the FSM. Over USD $714,000.00 worth of equipment was donated to various Departments and Offices throughout Pohnpei State Government.
After an opening prayer by the Director of Resources and Development, Mr. Hubert Yamada, the program was introduced by the Governor's Chief of Staff, Mrs. Suzanne L. Gallen. She noted that the donated equipment was received through a non-project aid from the Government of Japan from 2016. Chief of Staff Gallen called attention to the format and venue of this ceremony, as opposed to previous ceremony locations, due to the social and physical
distancing guidelines currently in place.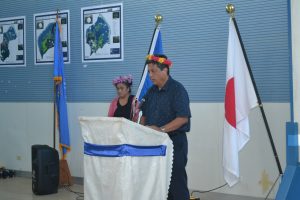 H.E. Hidenobu Sobashima expressed his sincere appreciation to the leadership of the Pohnpei State Government for all the efforts made in the fight against COVID-19. He was happy to note that the excavators have already been utilized in the fight against COVID-19 while preparing the Medical Monitoring Area in Dekehtik for quarantine. Other equipment, he said, will be used to strengthen Pohnpei's infrastructure in their respective areas.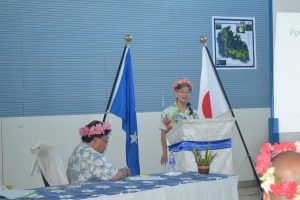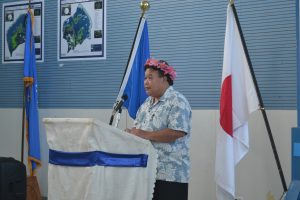 Governor Oliver in his remarks conveyed his gratitude for the handover of the equipment, acknowledging the previous administration's efforts in this handover. He noted that through the collaborative efforts of the Departments and Offices receiving the donated equipment, the people of Pohnpei will benefit greatly from these generous donations. Governor Oliver said he was also looking forward to the completion of projects made possible by the assistance of the
Government of Japan including the new recycling center in Dekehtik and the Nan Madol Visitor Information Center in Temwen, Madolenihmw. He ended his remarks in Japanese to Ambassador Sobashima with a heartfelt "Domo Arigato Gozaimasu"
Equipment donated to the Pohnpei State Government:
-One biological coagulation analyzer to the Department of Health and Social Services
-Two water tank trucks to the Department of Public Safety
-Two wood chippers to the Environmental Protection Agency and the    Department of Resources and Development
-Two dump trucks and four excavators to the Pohnpei Transport Authority
For more information on this press release, please contact the Public Information Officer at 320-
2235 or email: patrick.pedrus@pohnpei.gov.fm.