Governor Oliver attended the completion ceremony for Pohnpei Utilities Corporation's (PUC) Iron removal plant in Nett on Friday, September 16, 2022.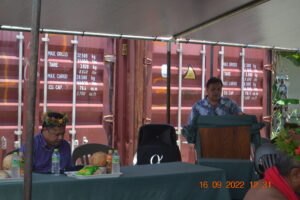 Nett District Administrator, Hon. Daniel Edgar delivered the welcoming remarks acknowledging the presence of His Royal Highness, IsoNahnken of Nett, Governor Oliver, Secretary of the FSM Department of Transportation, Hon. Carlson Apis and US Embassy Charge d'Affaires Alissa Bibb. PUC General Manager, Mr Nixon Anson, provided a summary of the project. He thanked Governor Oliver for his support, the Contractor, Mr David Calush and his company KEDEM Infrastructure 1991 for designing a system that is specifically built for Pohnpei water conditions. He called the new Iron Removal Plant, the best in the Pacific providing clean water with increased capacity and output that is cost-effective with easy-to-use control systems. He also thanked and recognized the members of the PUC board of Directors who were present for their involvement with this important project: Mr Erick Paul, Mr Joseph Felix Jr and past members, Dr Josephine Saimon and Mr Antonio John as well as PUC Chief of Planning and Engineering, Mr Alex Nanpei and Mr Leeronson Hairens, Chief of water operations.
Governor Oliver, on behalf of the government and the people of Pohnpei, expressed his gratitude to all who were involved in this important project that will provide clean water to the people of Pohnpei. He acknowledged the support of the Nett traditional leaders, the National Government – Secretary Apis and the US Government – Charge d'affaires Alissa Bibb and Ms Cheryl Burkindine for their crucial role to bring about the completion of this important project. He expressed a heartfelt "shalom" and thanks to contractor Mr David Calush and his team of Engineers from Israel and China.
Secretary Carlson Apis on behalf of the FSM National Government and President David W. Panuelo, congratulated Governor Oliver and PUC General Manager Nixon Anson, the PUC Board of Directors and all involved in the project including the generous assistance of the US Government. He noted that the completion of this project is a tribute to the close collaboration and leadership of the traditional, state and national governments.  His Royal Highness, IsoNahnken of Nett, Salvador Iriarte provided the final remarks, conveying congratulations to all involved, and thanking Governor Oliver for his leadership. Speaking of the importance of water in everyday life of Pohnpei, IsoNahnken of Nett expressed his appreciation for what the General Manager of PUC noted in his remarks, as the best Iron Removal plant in the Pacific.
A ribbon-cutting to officially open the plant was performed by His Royal Highness IsoNahnken of Nett, Governor Oliver, US Charge d'affaires Alissa Bibb and Mr David Calush, KEDEM Infrastructure (Contractor).
The Iron Removal plant was funded through the U.S. Office of Insular Affairs (OIA) public infrastructure fund for $1.8 million.