On October 12, 2022, Governor Reed B. Oliver attended the opening ceremony for the 39th General Assembly of the Association of Pacific Island Legislatures (APIL) at the Pohnpei State Legislature chamber.
On behalf of the people and government of Pohnpei, Governor Oliver welcomed the APIL delegation to Pohnpei. He highlighted the importance of leaders gathering from every level of society to advocate continuously on behalf of their people, "to promote and progress the health of our people."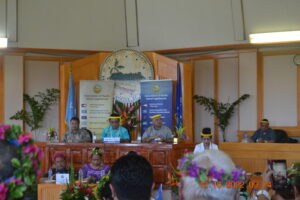 Governor Oliver noted the theme for this year's General Assembly, "Health is wealth, social and economic well-being of our APIL Pacific community" is a fitting reminder of the reality of our times, especially with the COVID-19 pandemic, challenging us to prioritize what matters most and reminding us that our most important resource is our people. He noted that a wise man once said that the first wealth is health and in today's world, health is not always the priority but hoped that the APIL's well-thought-out theme will be a guide to productive engagement and a successful general assembly.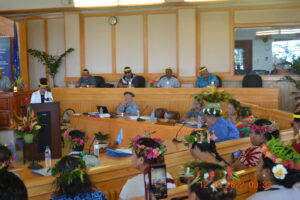 Also in attendance, delivering remarks were the Honorable Marvin T. Yamaguchi, Speaker of the 10th Pohnpei Legislature, and H.E. David W. Panuelo, President of the Federated States of Micronesia. The 39th General Assembly was held from October 12 – October 14, 2022, and included delegations from the Commonwealth of the Northern Mariana Islands, the State of Chuuk, the State of Yap, the State of Pohnpei, the Republic of Kiribati, the Republic of the Marshall Islands, Republic of Palau, Territory of Guam as well as the Pacific Island Development Bank (PIDB).
After the opening ceremony, Governor Oliver joined PIDB CEO/President Lindsay Timarong and APIL delegates for a luncheon at Mangrove Bay, hosted by PIDB.