On September 30, 2020, T.H. Reed B. Oliver, Governor of Pohnpei State, signed into law, State
Law No. 10L-32-20: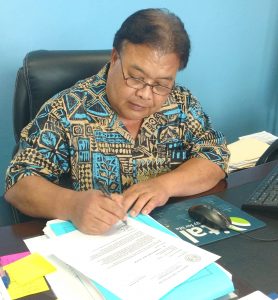 "PROVIDING FOR THE ANNUAL BUDGET FOR THE GOVERNMENT OF POHNPEI STATE
FOR FISCAL YEAR 2021; APPROPRIATING MONIES, THEREFORE; PROVIDING CERTAIN
AUTHORIZATIONS; PROVIDING FOR AMENDMENTS TO THE BUDGET TRANSMISSION
ACT FOR FISCAL YEAR 2021 RELATIVE THEREOF; AND FOR OTHER PURPOSES."
State Law No. 10L-32-30 was then officially transmitted to T.H. Ausen T. Lambert, Speaker of the 10th Pohnpei State Legislature on the same day.
The total appropriation for FY2021 per S.L. No. 10L-32-20 is $41,401,420.00. This amount includes an authorized amount of $1,382,485 in special grants(non-compact grants) for the Department of Education and the Department of Health and Social Services.
Please refer to the link below for breakdown of funding sources: