COVID-19 Task Force Updates
As of June 4, 2021, 16,643 or 80% of the acceptable population that can receive the COVID-19 vaccine have been vaccinated with at least one dose.  The total number of people who have completed vaccinations is 8,179 or 39% of the acceptable population that can receive the COVID-19 vaccine.
Vaccine coverage in the municipalities is as follow:
Kolonia – 57%

U- 53%

Sokehs – 48%

Kitti – 46%

Madolenihmw – 40%

Nett – 39%

Outer Islands – 3%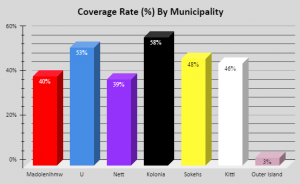 Dr. Thane Hancock, an epidemiologist from the US Centers for Disease and Control Center (CDC) continues to work with Dr. Rally Jim, the Department of Health and Social Services, and the Pohnpei COVID-19 Taskforce to provide expert advice and guidance for Pohnpei's COVID-19 response efforts. He is also assisting with ventilator training. 
Citing the success of Palau and Israel in recent months to achieve herd immunity in their countries, Dr. Hancock continues to encourage the Task Force and Pohnpei to press forward with vaccination efforts.  He said Pohnpei and FSM are already COVID FREE, now the effort should be made for  Pohnpei to be COVID-protected.  He was recently helping with outreach to the municipalities accompanying both Dr. Rally Jim and Dr. Payne Perman, to answer as many questions to alleviate the fear and misunderstanding surrounding COVID-19 vaccinations.  
Governor Oliver expressed his gratitude for Dr. Hancock's ongoing expert assistance and also related previously that the State of Israel has also committed to sending experts to assist with Pohnpei and FSM's COVID-19 response efforts.
In Palau, their first COVID case is not active and causes little risk for the spread of infection.  Dr. Thane Hancock joined Palau's press conference via zoom virtual conference.  He noted that Palau is the best nation in the world to respond to this, because of the measures they have implemented with vaccination, quarantine, testing, etc.
2. Madolenihmw High School Seniors visit Governor's Office
On May 26, 2021, 48 seniors from Madolenihmw High School accompanied by their teachers, visited the Governor's Office. The first group of students met with Governor Oliver and his staff in the Governor's cabinet conference room in the morning. The second group of students met with the Public Affairs Officer, Mr. Peteriko Hairens, Senator Shelten Neth, and the Office of the Governor's staff in the same cabinet conference room that afternoon.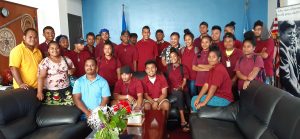 After welcoming the first group of students, Governor Oliver sat down with them in the cabinet conference room and offered some words of advice and encouragement. Acknowledging their excitement as they near the end of their high school educational journey, face new challenges, and depart from friends and teachers, he counseled them to prepare themselves for graduation and beyond.
Governor Oliver urged the students to finish school and return to Pohnpei. He told the students that one day, they will replace us and will do even better than us. Governor Oliver advised the students that we need people who will be responsible and serious to run the Government, noting that the 12 years of education that they have just received along with the counsel and advice of their parents, teachers, and elders will prepare them for the next step.
Governor Oliver encouraged the students to set their dreams and achieve what they are passionate about. He said Pohnpei needs you as a teacher, nurse, engineer, or even a Governor. He encouraged the girls to aspire to the Governor's position as well.
Before thanking the students for their visit, he gave a quick history lesson, naming the Governors of Pohnpei who came before him. Governor Oliver ended by urging them to make good use of their visit to the Governor's Office and other Pohnpei State Government offices to help them decide what they want to do.
The second group of students from Madolenihmw High School met with Public Affairs Officer, Peteriko Hairens, representing the Governor, and Senator Shelten Neth who escorted the group from their visit at Legislature to the Governor's Office.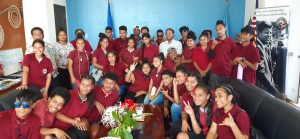 Mr. Hairens welcomed the students on behalf of the Governor, noting that the Governor is very happy to have them visit, and apologized for his absence. Mr. Hairens conveyed words of encouragement to them to continue in their education and look to return to help Pohnpei. Senator Neth explained the government branches and functions, connecting them all together and explaining their responsibilities.
3. Department of Public Safety Oath of Office, Badge Pinning and Police Academy Commencement
On Monday, May 31, 2021, Governor Oliver attended a Department of Public Safety function that combined the oath of administration, badge pinning, personnel inspection, and the commencement of Pohnpei State Police Academy Cycle #6.
Opening the ceremony with a word of prayer was Deacon William Ioanis who is also a Pohnpei State Police Captain. Welcoming remarks were made by the Director of the Department of Public Safety, Mr. Patrick Carl. Pohnpei State Chief Justice, Hon. Nelson Joseph administered the oath of office to the officers, which was followed by a badge pinning by the wives and family members of the Police Officers.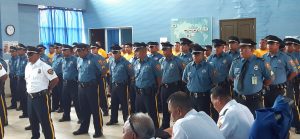 In his remarks, Governor Oliver congratulated the Police Officers for completing their training. He thanked the Pohnpei State Legislature for supporting the procurement of new uniforms for Pohnpei's Police Officers. He called for the Police Officer's continued service to the community they serve. Governor Oliver called for duty above self. He thanked the Police Officers for their important service to the community, maintaining the peace and safety of Pohnpei, telling them "Please know that we appreciate what you do, every day".
Governor Oliver shared three virtues that he has shared with previous officers, students, and citizens: Respect, Responsibility, and Honesty. He said, it's up to you to follow and apply this, whether you are in uniform or not. He closed by sharing an important ability to complement all the training they have had so far, discernment. Governor Oliver stated, with all the knowledge, skills, and energy, they will need to know when and where to apply what has been learned at the right place, right time, and in the right amount. He said, you (Police Officers) are being relied upon by the people, 24/7, every year, and discernment will be very important in your continued service to the public.
Joining Governor Oliver and Chief Justice Hon. Nelson Joseph was Vice Speaker, Hon. Stevick Edwin, Chairman of Governmental and Judiciary Operations Senator Hon. Jack Harris, Senator Hon. Ricky Carl and Senator Hon. Francisco Ioanis.
4. Salapwuk Elementary School in Kitti graduates three 8th grade students
On Tuesday, June 1, 2021, Governor Oliver attended the 8th-grade graduation ceremony for Salapwuk Elementary School.
The 8th-grade graduating class consisted of only three students:
Sebastin Andreas
Jasmine Tom
Shanaia Ioanis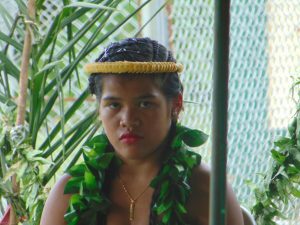 In his short remarks, Governor Oliver congratulated the students on their achievements thus far. He encouraged the new graduates to take action, sharing a quote "Acta Non-Verba" in Latin, translated as "actions, not words". Governor Oliver counseled the graduates to stay away from negative people, work with those of the same mind and goal to achieve more together and to always remember and practice their identity as Pohnpeians.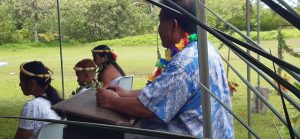 The class valedictorian, Ms. Jasmine Tom's address congratulated and encouraged her fellow students, thanked teachers and parents for their support, and espoused the principle of working together in cooperation and collaboration, or Enginkehlap.
Joining Governor Oliver at the graduation ceremony was Senator Herolyn Movick, Senator Francisco Ioanis, Kitti Municipal Chief Justice Dickson Santos, Soumas en Alouso, Soumas en Salapwuk, Mr. Centry Paul from Pohnpei Department of Education, and Mr. Richard Abraham from Kitti's Isokonedi – Municipal Council.
5. ESDM Elementary in Madolenihmw, graduates 12- 8th graders
Congratulations to all twelve 8th-grade graduates from ESDM Elementary School in Madolenihmw, who graduated on Wednesday, June 2, 2021.
After a welcome by PTA President, Mr. Stuard Penias, and speeches by Salutatorian, Janet Makaya and Valedictorian, Trishelle Tihpen, Keynote Speaker Katsandra Shed delivered her remarks. She shared three rules of working with others: Be Honest, Be respectful, Do your best and have fun.
Governor Oliver delivered special remarks congratulating the students on their educational achievement. To Ms. Shed's three rules, Governor Oliver added three virtues that he has shared with many others: Respect, Responsibility, and Honesty. He counseled the students to stay away from negative people, aim high and work with others for the good of their communities, our state, and our nation.
Also present at the ceremony were: Senator Shelton Neth, Senator Ricky Carl, Senator Herolyn Movick, Senator Hudson Abraham, Senator Nelpert Perez, Senator Francisco Ioanis, Meninkeder Rensle John, Board of Education member, Ms. Phyllis Silbanuz, representing Pohnpei State Department of Education, Mrs. Laura Shed, Madolenihmw Councilman Sosper Penias and Capt. Taylor Santos from the Salvation Army, who provided the closing prayer.
ESDM Elementary School, 8th Grade graduates:
Trever Shawn Santos
Weiner Hairens
IJ Elias
Berleen Primo
Maylani Damarlane
Trishell E. Tihpen
Anjeanisha Kylo Primo
Alicia Helgenberger
Janet Makaya
Jolian John
Ledysha Ehsa
Meleiolany Elias
Principal: Hernet Santos