KOLONIA, POHNPEI – After a parade from the Spanish Wall, signaling the end of Public Safety week, First Lady of Pohnpei, Mrs. Estle G. Oliver assisted by U.S. Embassy Chargé d'affaires Alissa Bibb, Mrs. Jaap Van Hierden, wife of the UN Resident Coordinator and Ms. Inomata Maho, Researcher/Adviser for the Japan Embassy, lit up the 2022 Pohnpei State Christmas Tree.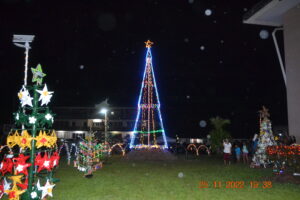 Youth groups, Government organizations, Non-Government organizations and community groups marched from the Spanish Wall under the theme of "Resilient to Cyber Crime through Education" to raise awareness of Cyber crimes.  After reaching the Governor's Office, a short program was held before the lowering of the Pohnpei State flag and the lighting of the Christmas Tree.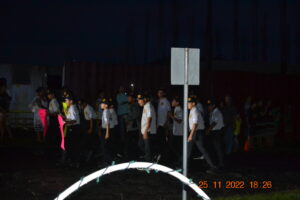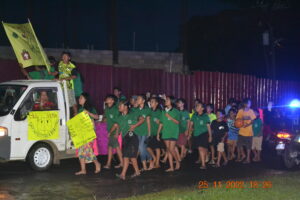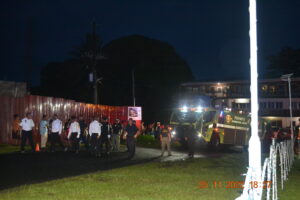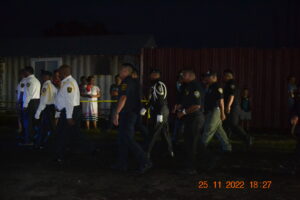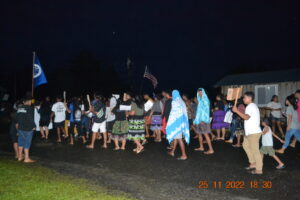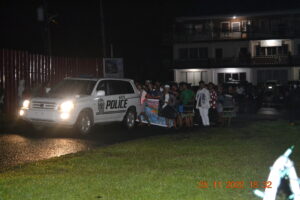 In his remarks, Director of the Department of Public Safety, Mr. Patrick Carl, related the history of the Department of Public Safety (DPS), separating from the Department of Justice in October of 1999 and eventually having four divisions (Police & Security, Fire & Rescue, Corrections and Rehabilitations and Fish and Wildlife) under DPS.  He gave an overview of the week's events, explaining the importance of awareness efforts to prevent cyber crime.  He noted that anyone with a device is prone to committing or being a victim of cyber crimes, and that one of the unfortunate crimes is identity theft.  He wanted the public and especially the youth and parents to be aware of the dangers of cyber crimes.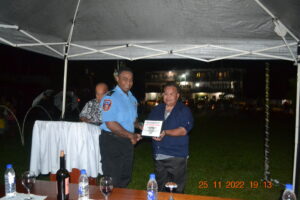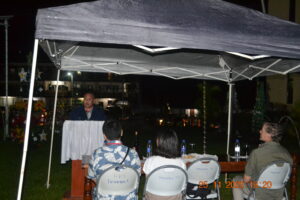 Special awards were also given to winners of the health and wellness event that was part of Public Safety week and a special lifesaving award was presented to Firefighter Mike Lucas for actions performed while off duty that resulted in saving the life of a child.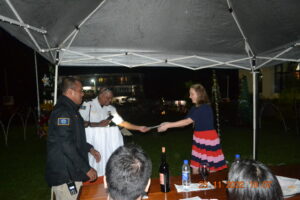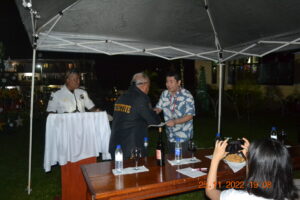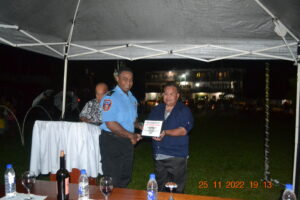 Governor Oliver echoed and acknowledged the need to raise awareness of cyber crimes.  He praised the efforts of Director Carl and the Department of Public Safety.  He noted that with technology advances, it is important to be careful online.  He shared the three virtues of respect, responsibility and honesty that can also be applied when online as well.  Governor Oliver also acknowledged the presence of the UN Resident Coordinator, Mr. Jaap Van Hierden, US Embassy Charge' d'Affaires Alissa Bibb and Ms. Inomata Maho, Researcher/Adviser for the Japan Embassy.  He thanked everyone who helped with the Christmas Tree: PUC, PTA and Mr. Strickson Anson from the Facilities/Maintenance crew of the Office of the Governor.  Governor Oliver closed his remarks recognizing the participants and winners of the Christmas Tree contest, whose Christmas trees were also part of the Christmas Lighting Ceremony.
Thank to all who supported and participated in this year's Public Safety Week and Christmas Tree Lighting.
Donors & Sponsors:
FSM Congress Vice Speaker Esmond Moses
Congressman Dion G. Neth
Department of Education
Pohnpei Transportation Authority
Pohnpei Utilities Corporation
Pohnpei Broadcasting Corporation
Mr. Strickson Anson
Ace Hardware
Black Sand Store
Genesis Hospital
Pohnpei Hardware
Pohnpei Arts & Craft
Micro Printer
Pohnpei Service Station
Best Buy
Island Security Agency
Isamu Nakasone Store
MCS Pohnpei
Leo Etscheit Foundation
SDA High School Seniors
Kolonia Town Government
Parade Participants
2022 Madolenihmw Junior Police
2022 Sokehs Junior Police
2022 Nett Junior Police
Ohmine Elementary School
Pohnpei Catholic School
Our Lady of Mercy High School
College of Micronesia
Pohnpei Port Authority
MCS Pohnpei
US Veterans of Pohnpei Association
Pohnpei Public Auditors Office
Sokehs Community Youth Association
Pohnpei Broadcasting Corporation
Nanpei Memorial High School
PICS High School
FSM National Police
Sokehs Municipal Police
U Municipal Police
Kitti Municipal Police
Kolonia Town Police
Pohnpei State Department of Public Safety