Governor Reed B. Oliver joined Director of the Department of Education, Stanley Etse, staff of DOE, a panel of judges and families for the 2nd annual Christmas Song Contest at the Pohnpei (PICS) Gymnasium on November 30, 2022.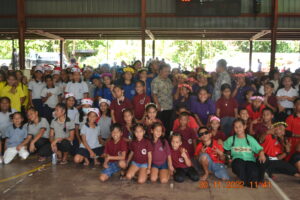 In his remarks, Governor Oliver spoke of the importance of music and how every culture and society has some form of music. He explained that music brings people together, and when words are not enough, sometimes music can convey the feeling words are unable to express. Governor Oliver also spoke of the benefits of music to help one memorize, build confidence, and preserve our culture, history and language through music. He expressed gratitude to Director Etse and the Department of Education for their hard work putting the Christmas Song contest together for the second year in a year. Governor Oliver closed by saying that one day one of the singers in the competition could end up being a famous singer, and for all to remember this day well and how the music made them and others feel.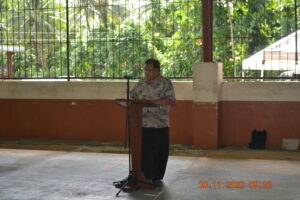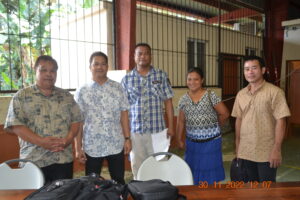 13 public and private elementary schools competed this year. The theme for this year's contest was "Christmas Lullaby". The teams were judged according to pitch, memory, stage presence, creativity and attire. Instruments were also used and many of the teams added some creative dance moves to their performances.
The panel of judges included: Mr. Santos Abraham from the Division of Social Services, Ms Meryda Inos, Chief of Personnel, Labor and Manpower Development, Mr. Denson David, Speaker of Madolenihmw Legislative Council and Mr. Kennedy Nedlec, Chief Justice of the Sokehs Municipal Government.   The Master of Ceremonies was Mr. Jerome Silbanuz from the Department of Education and both Director Stanley Etse, Director of the Department of Education and Mr. Peter Ramirez, Chief of Elementary Education delivered remarks.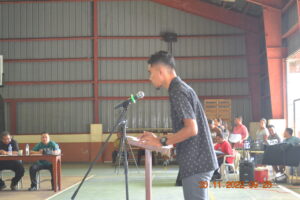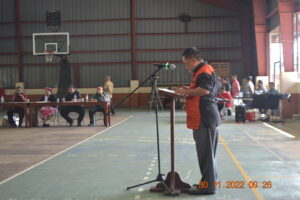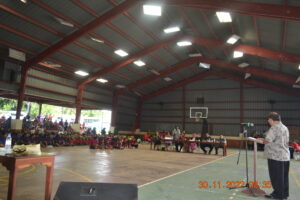 Here are the teams that participated along with their standing:
Wone Elementary School
Pohnpei Catholic Elementary School
Tie – Sapwalap Elementary School and Ohmine Elementary School
Nanpei Memorial Elementary School
Rohi Elementary School
Temwen Elementary School
Awak Elementary School
Nett Elementary School
Lukop Elementary School
Pohnlangas Elementary School
Palikir Elementary School
The entire competition was captured on video and can be viewed on the Pohnpei Public Broadcasting Corportion's Youtube channel:  https://youtu.be/8pzZGe5HerQ