On September 22, 2020, Governor Oliver attended the memorial mass of Mr. Peter Sitan at the Catholic Mission Church in Kolonia. Mr. Sitan was the President/Chief Executive Officer (CEO) of the FSM National Fisheries Corporation (NFC).  He was reported missing while fishing on July 11, 2020. His remains were recovered 160 miles away on Pingelap Atoll on Saturday, September 19, 2020, more than two months after he was reported missing at sea near Pohnpei.
Governor Oliver offered his sincere condolences to the family of the late Mr. Peter Sitan on behalf of Lt. Governor Perman, Speaker Ausen T. Lambert, Vice Speaker Stevic Edwin, who were present, and the leadership of Pohnpei State Government. Governor Oliver acknowledged the late Mr. Sitan's accomplishments and contributions to the State of Pohnpei and the FSM in his capacities as a former Congressman, 4th FSM Constitutional Convention Delegate, and President/CEO of NFC, headquartered here in Pohnpei. He was a resident of Pohnpei, married to Mrs. Elihter Edgar Sitan, and they had two children together, two adopted and one from his previous marriage. His traditional title from Pwoud Lepen Nett and Serihn Serihn Iso Nahnken in Nett was Nahnwahn Dolen Katau Nett.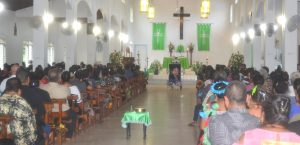 Later in a separate meeting, Governor Oliver thanked all the Agencies and Departments who took part in the search, rescue, and recovery efforts including the Department of Public Safety, the Department of Health and Social Services, the Office of Fisheries, and Aquaculture, and the Pohnpei Port Authority.