1.Courtesy (Farewell) call by WHO Country Liaison Governor
On Monday, February 22, 2021, Governor Oliver received a courtesy call from the World Health Organization (WHO) Country Liaison Officer, Dr. Eunyung Ko.  Governor Oliver welcomed Dr. Ko and her colleagues from the WHO office in Palikir, Mr. Semeson Ehpel, and Mr. Ben-Jackson Amor.
Dr. Ko informed Governor Oliver that the courtesy visit was really a farewell visit.  Dr. Ko will be leaving Pohnpei after almost five years as the Country Liaison Officer (CLO) for her next posting in Vanuatu.  During their brief conversation, Dr. Ko encouraged the continued vaccination of Pohnpei residents with the MODERNA COVID-19 vaccine that is currently available to all individuals 18 years and older.
Governor Oliver thanked Dr. Ko and her colleagues for their visit, expressing his sadness at her leaving and thanking her for many years of service to Pohnpei, especially at the community level.  He recalled her important work with the community dispensaries and all the important technical/medical knowledge she has provided over the years, especially in the last year with the COVID-19 pandemic.  Governor Oliver assured Dr. Ko vaccination efforts will continue as the public becomes more informed of the benefits and minor side effects.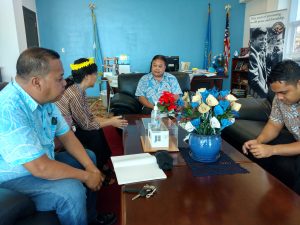 2. Governor Oliver attends ECE Parent's Literacy Day Workshop Opening
On Tuesday, February 23, 2021, Governor Oliver delivered the keynote address for the Early Childhood Education (ECE) Parent's Literacy Day Workshop at the Kolonia-China Friendship Gymnasium. The theme for this year is "Early Moments Matter" or in Pohnpeian "Kesempwal en kaihanda mwadang".  Accompanying Governor Oliver was Student Takeover Day Governor, Mr. Aike Solomon.
After an opening prayer by Rev. Dahker, Chair of the Board of Education, Mr. Grilly Jack delivered opening remarks.  He acknowledged the importance of the workshop's theme, and especially literacy for education, apologizing because he was not fully prepared to deliver remarks that day. 
Governor Oliver's remarks highlighted the importance of literacy, especially at an early age and starting at home into school and beyond.  He shared the literacy rates in the FSM  which showed a decrease in literacy and noted that a current assessment of literacy rates is still being undertaken.  With the next day being Sokehs Rebellion Day, Governor Oliver took an event from Pohnpei's history to signify the importance of literacy.  He related the story of two Pohnpeian men carrying a message to the colonial authorities at the time of the Sokehs Rebellion.  The message, when received, would set events in motion that would seal the fate of Soumada en Sokehs, the leader of the Sokehs Rebellion and 15 other Pohnpeians.  Governor Oliver asked, how much of a difference would it have made if the two messengers could read the message they were relaying?  Would they have delivered it? We will never know, but the history of Pohnpei could have been irrevocably changed were it not for literacy, or being able to read.  He later introduced Student Takeover Day Governor Aike Solomon who also addressed the crowd and wished all the participants all the best in their workshop.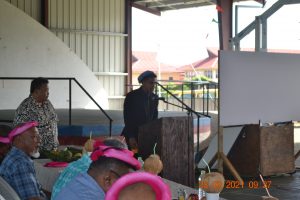 3. Student Takeover Day 2021
On Tuesday, February 23, 2021, the Pohnpei State Department of Education hosted the first Student Takeover Day for the Pohnpei State Government. 21 high school seniors from PICS High School, Our Lady of Mercy High School, Madolenihmw High School, Calvary Christian Academy, Nanpei Memorial High School, Ohwa Christian Academy, Pohnpei Catholic School, and Seventh Day Adventist High School participated. 
The program of events started at 8:00 AM in the morning at the Governor's Conference Room.  There, the students assembled and were given a brief orientation before being taken to their employers/offices.  With such a variety of workplaces, each student's activities varied from office to office, but the objective was to give young people a chance to walk in the steps of their host employers for just a day to "experience what being a leader and decision-maker feels like". 
After spending the day with their host/employers, the students returned to the Governor's Conference Room at 3 pm to close out the first Student Takeover Day and receive certificates of appreciation, congratulations, and words of encouragement.  As the keynote speaker, Governor Oliver noted the historical significance of this day, as the first Student Takeover Day for the Pohnpei State Government.  He shared some of his activities that day with Student Governor Aike Solomon that included attending an ECE Parent's Literacy Workshop and visiting Legislature to watch Student Speaker Leilani Jade Lane presiding.  He then spoke of two noted leaders of Pohnpei State, the late Speaker Ambros Senda and the current Lt. Governor Feliciano Perman who dared to dream as young students to be leaders of their State.  He closed by requesting that each of the 21 students pass on the torch that has been lit today to lead our people into the future and shared his vision of passing legislation to make Student Takeover Day a recurring and fully supported event each year. Governor Oliver thanked Director Etse and the Department of Education for their hard work and dedication to make this day possible.
Speaker of the 10th Pohnpei State Legislature, T.H. Ausen T. Lambert addressed the students asking for their assistance as the future of our State.  He shared a quote by Winston Churchil, "Never give up, never give up and never ever give up".  He said Pohnpei needs you and looks forward to seeing you look after the affairs of the Pohnpei State Government.   Also included in the program were two of the Department of Education's external partners, IOM-Micronesia and UNICEF.  Chief Nathan Glancy shared IOM's mission and purpose in Micronesia and also encouraged the students who receive their advanced degrees abroad to return home and serve their people.  UNICEF Chief Mission, Mr. Cromwell Bacarezza, interacted with the students with questions, gifts, and a story about believing in yourself and others, pledging water tanks to the school with the most enthusiastic responses.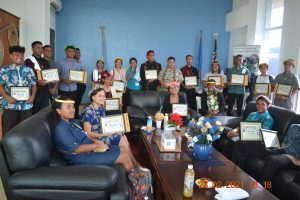 Director of Education, Mr. Stanley Etse closed the Student Takeover Day.  He thanked the students, their schools and the Education Staff for all their hard work and dedication to make this first Student Takeover Day possible.  He invited all the host employers to participate in next year's Student Takeover Day, pledging to work with the Governor's Office and Legislature to make Student Takeover Day an annual and fully supported event.
Congratulations to all the students who experienced, even for just one day, what being a leader and decision-maker feels like, and a special thank you to the Host/Employers:
Student

Sex

School

Employer

1. Jonathan Lebehn

M

CCA

Executive Director, NORMA

2. Gorinna Booth

F

CCA

Executive Director, MCT

3. Mercedes Olter

F

CCA

Director, Education

4. Connor Boylan

M

CCA

Director, Public Safety

5. Denny Ray Jonathan

M

MHS

Chief Revenue & Taxation, Treasury & Administration

6. Jayfinsky Fritz Johnny

M

MHS

Budget Officer, Budget Office

7. Emralynn Paulus

F

MHS

Administrator, State Transportation & Infrastructure

8. Collie Anne Abraham

F

MHS

Commissioner, PPBC

9. K'con Andon

M

NMHS

Lieutenant Governor, Pohnpei State Government

10. Lancelot Santos

M

NMHS

Director, Resources & Development

11. Janet Barnabas

F

NMHS

Manager, Social Security Pni Branch

12. Kevin Phill Silbanuz

M

OCA

Chief of Land, Department of Land

13. Ike Solomon

M

OLMCHS

Governor, Pohnpei State Government

14. Leila Jade Lane

F

OLMCHS

Speaker, 10

th

Pohnpei State Legislature

15. Gayshallica Augustine

F

PCS

Director, Health & Social Services

16. Marie Ann Raugalyang

F

PICS

Chief Financial Officer, FSM Development Bank

17. Fiji Phillip

M

PICS

Administrator, Fisheries & Aquaculture

18. Emi Suzuki

F

PICS

Marketing Manager, PPA

19. Skyles Albert

M

PICS

Election Commissioner, Election Commission

20. Manasa Edgar II

M

PICS

Public Auditor, Pohnpei State Auditor

21. Ridianne Wolphagen

F

SDA

Director, Environmental Protection Agency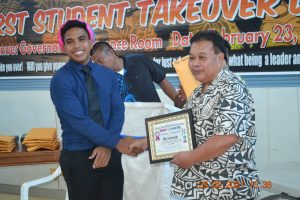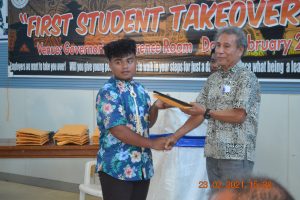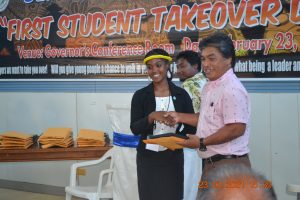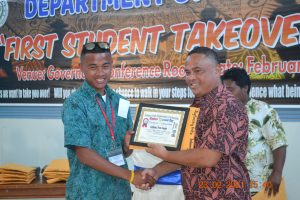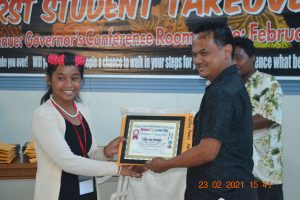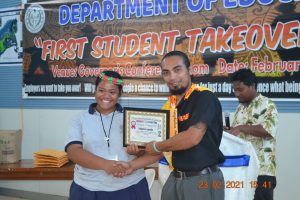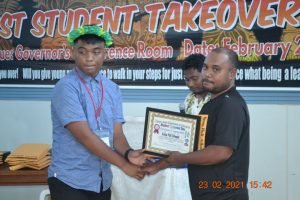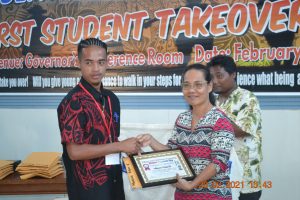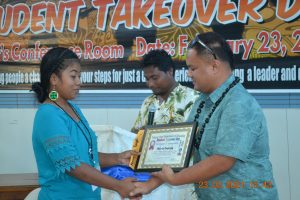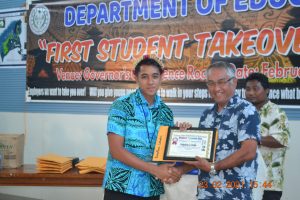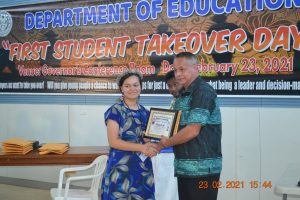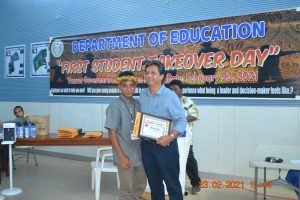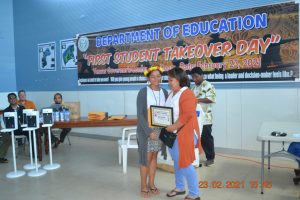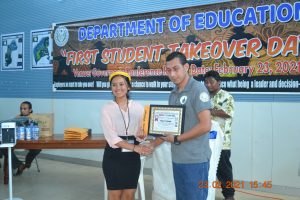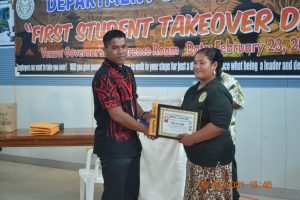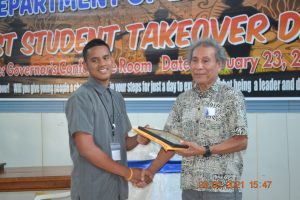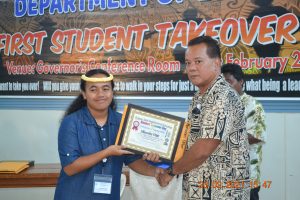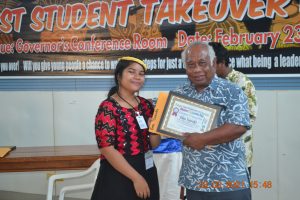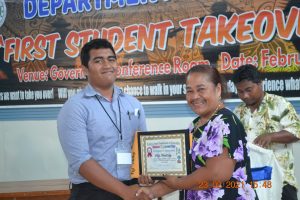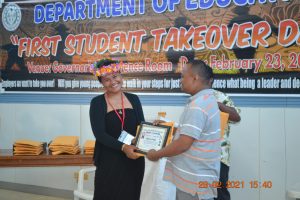 4. Lady Minto Delivers Food and Supplies to Kapingamarangi and returns
On Friday, February 26, 2021, the Chairman of the Kapingamarangi Special Task Force and Director of Resources and Development, Mr. Hubert Yamada, informed Governor Oliver that through FSM TC&I and Field Trip Officer, Mark Kostka, all goods and supplies destined for Kapingamarangi have been properly discharged to the island.
The Lady Minto set sail for Kapingamarangi on Wednesday, February 24, 2021, with a 6-member team, plus all prepared supplies, including the many donations from local businesses, organizations, individuals, and last-minute items from FSM Congress.  The Lady Minto returned on Monday, March 1, 2021.  Thank you to all the donors for your generous contributions:
Genesis Hospital, FSM Congress, Pohnpei Catholic Church, UCCP, US Embassy, Australian Embassy, Pohnpei Girl's Scouts, United Airlines, Robina Anson, Bank of FSM and Staff, ACE Commercial, INS, Kaselelie Diner, Leon and Angie Ligohr, and Kapina Village.
5. Governor Oliver meets with Pohnpei Women's Council
On Thursday, February 25, 2021, Governor Oliver met with Pohnpei Women's Council President, Mrs. Emy Musrasrik-Carl, Luhkpein en Lengso, in the Governor's Cabinet Conference Room, Peilapalap, Kolonia. The purpose of this meeting was to inform Governor Oliver of the Pohnpei Women's Council's recent re-organization and seek support for the upcoming International Women's Day and related events in March. 
President Musrasrik-Carl informed Governor Oliver that with the reorganization of the Council, she is the President, Mrs. Maria Donre is the Vice President, Bernolina Hedson is the Secretary and Judy Shoniber Perman Mauricio is the Treasurer.  President Musrasrik-Carl shared the financial support the council will be receiving from Pohnpei State Legislature, in the amount of $10,000.00 and from the Division of Social Affairs, Department of Health, in the amount of $2,000.00.  She also asked for use of the Governor's Large Conference Room for a 2-day workshop on March the 3rd and 4th, which is confirmed.  She also asked for the blessing and support of the Governor's Office to hold these events that will attract many people in light of the social distancing advisories. 
Governor Oliver welcomed President Musrasrik-Carl who was joined later by Treasurer Judy Shoniber Perman Mauricio and Mr. Noriekka Lekka, Chief of Social Services to the Governor's Office.  He said he is in full support of the Women's Day activities and suggested a collaboration with the Health/Social Affairs staff, Education and Public Affairs to allow for vaccinations to be done for all who will be joining the two day workshop.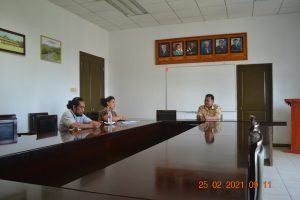 6. Renewable Water Presentation
On Friday, February 26, 2021, Chief of Staff, Kapilly Capelle and Director of Resources of Development, Mr. Hubert Yamada, represented Governor Oliver at a zoom virtual meeting with the US Embassy Kolonia and FSM National Government on renewable drinking water.
The zoom conference included representatives from a private company, SOURCE, that creates drinking water from air and sunlight through solar panels.  The presentation was an introduction to the technology and not technically detailed, but offered some promising solutions for emergency water situations, especially on remote outer islands.  It was estimated that one solar panel could produce approximately 300 – 500 liters of water per month. 
The presentation also gave examples of existing solar panels using the SOURCE technology in other Pacific Island Countries, like Vanuatu and Timor-Leste.  The technology is designed to complement existing water infrastructure and technologies, not replace existing ones.  Any further development on the use of this technology will be shared with the public.
7.Overdue vessel from Mwoakilloa found in Sapwuahfik
The overdue fishing vessel with two men from Mwoakilloa that was reported in early February was found on Sapwuahfik, February 19, 2021.  According to after-action reports by Director of Public Safety, Mr. Patrick Carl, to the U.S. Coast Guard, it was determined that the two individuals experienced a mechanical problem with their outboard engine while out fishing.  They departed Mwoakilloa in early February and after drifting for several days, they sighted Sapwauafik at approximately 2 pm on the 19th and started rowing, reaching shore at approximately 4 pm.    
Special Thanks to the United States Coast Guard, US Embassy Kolonia, National Police, and Pohnpei State's Department of Public Safety for the successful search and recovery of two lost fishermen from the island of Mwoakilloa.
Enginkehlap 8-21 News Program can also be heard at 8am and 4pm on V6AH AM 1449 and FM 89.7 in Pohnpeian.  An audio recording of that program is also provided below: