On Friday, February 26, 2021, T.H. Reed B. Oliver, Governor of Pohnpei State swore in Mr. Barton Henry as the newest board member of the Pohnpei Housing Authority Board. The small ceremony was held in the Governor's Office, Peilapalap, Kolonia.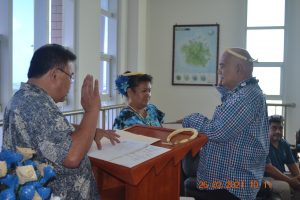 Governor Oliver administered the oath of administration as Mr. Henry's wife, Angie, held the Bible. Lt. Governor, T.H. Feliciano Perman, delivered remarks after the oath of office. He congratulated Mr. Henry on his selection and on behalf of the Governor, thanked the 10th Pohnpei State Legislature for their confirmation of Mr. Henry. Lt. Governor Perman said that the Pohnpei Housing Authority provides an important service, shelter, which is important for any society. He expressed his confidence in Mr. Henry to help with the programs that the Housing Authority has in place for the citizens of Pohnpei. Mr. Henry thanked Governor Oliver and the 10th Pohnpei State Legislature for the opportunity to serve and pledged his best to carry out his assigned duties and responsibilities.
Senator Shelten Neth and Senator Ricky Carl presented Mr. Henry's certificate of appointment. Also attending were Executive Director of Pohnpei Housing Authority, Mr. Onlino Lawrence, Senator Stevenson Joseph, Public Affairs Officer, the MC, Mr. Peteriko Hairens, Staff of the Pohnpei Housing Authority, family and friends of Mr. Barton Henry.