Listen to Enginkehlap News (Pohnpeian) by clicking the play button above.
You can also catch Enginkehlap News on V6AH, every day at 8:00 AM and 4:00 PM.
1. Pohnpei COVID-19 Vaccination update
As of June 29, 2021, the number of people in Pohnpei that have received the first dose of the MODERNA COVID-19 vaccine is 18,553 which means 89% of the acceptable population has received the first dose.  9,650 or 46% of the acceptable population has received the second dose and completed the series, this includes the Johnson and Johnson vaccine.
These are the coverage rates in the Municipalities of Pohnpei, as of June 29, 2021:
Kolonia- 63%
.Uh- 63%
Sokehs – 56%
Kitti – 53%
Nett- 49%
Madolenihmw- 45%
Outer islands -3%
The general public is advised, especially those who have not received the vaccine, to kindly visit public health or your local dispensary to receive the COVID-19 vaccine.
2. Typhoon Wutip IOM/USAID Beneficiaries receive vouchers
Seventeen (17) Pohnpei residents met with Governor Oliver and International Organization for Migration – Micronesia (IOM) Chief of Mission, Mr. Nathan Glancy in the Governor's Cabinet Conference room.  In two separate meetings, the residents were informed that because of a damage assessment that was made on their homes after Typhoon Wutip in 2019, they would be receiving financial aid from the US Federal Government through FEMA/USAID and IOM.  The aid rendered ranged from approximately $24,000 to $2,000 depending on the damage incurred and will be paid out in vouchers to obtain building supplies and replace household appliances that were damaged.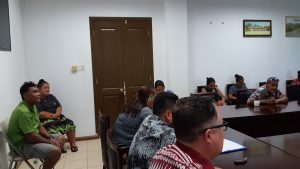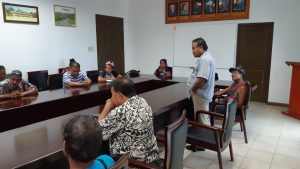 Governor Oliver conveyed his sincere appreciation to IOM Chief of Mission Glancy and the FEMA/USAID team for this very important and significant assistance rendered on behalf of the people of Pohnpei and made possible through the Compact of Free Association with the United States of America.
Typhoon Wutip passed over Pohnpei, Chuuk, and Yap States, FSM between 19 and 22 February 2019 with 75–80 mph winds and gusts of up to 100 mph.  FSM President, Peter M. Christian issued a Declaration of Disaster on March 11 and requested international assistance to respond to the damage caused by the typhoon.
3. Governor Oliver discusses cross-cutting issues with DOE and DPS Directors
June 21, 2021, Governor met with members of his cabinet to discuss important state matters and set action steps.  Director of the Department of Education, Stanley Etse, Director of the Department of Public Safety, Patrick Carl, and Acting Attorney General Mona Abello-Pangelinan met with Governor Oliver and Chief of Staff, Kapilly Capelle, to discuss, follow up and advance the following issues:
A proclamation on Student Takeover Day is being reviewed by the Director of Education, to designate and observe a day every year for students at the high school level to take over the government and other organizations for one day to inspire and encourage them to pursue their educational goals
A transportation plan has already been formulated and adopted by the Department of Education to provide consistent and safe transportation of students to and from school, this plan will be shared with the public once finalized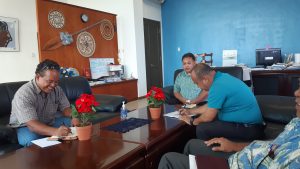 The Department of Public Safety's pilot Junior Police Officer program is running at three public elementary schools. The program is engaging with elementary school children to teach them drill/marching basics, public safety, and build character, discipline, and teamwork
Department of Public Safety Director Carl also shared that four new motorcycles are expected to arrive. The four new motorcycles will be used for patrols and traffic congestion.
4. Potholes follow up with PTA and T&I
On Tuesday and Wednesday, June 23 – 24, 2021, Pohnpei Transportation Authority (PTA) road crews responded to a memorandum sent to PTA Commissioner and PTA Board Chairman by Governor Oliver to fill in dangerous potholes around Kolonia Town.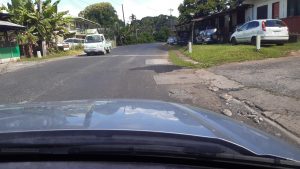 The PTA crews filled in potholes from Dolonier, into Kolonia Town onto the Pohnpei State Hospital parking lot, and up to Sekerre.  The potholes were identified and shared with PTA, Office of Transportation and Infrastructure (T&I), and the Governor's Office.  PTA will continue moving forward with the filling of potholes throughout Pohnpei.
5. Local Chief Executives to discuss food security, reorganization
On June 24, 2021, the Pohnpei Association of Local Chief Executives gathered for their quarterly meeting at the Governor's Conference Room, Peilapalap, Kolonia.
On the agenda for this meeting was a presentation by the Pohnpei State Department of Resources and Development (R&D) to address a Food Security Fund and discussions around the reorganization of the Association in light of the recent election of Kitti's Luhk en Moanlap, Mr. Welson Panuel.
R&D's Chief of Agriculture, Mr. Mark Kostka, updated the Local Chiefs that based on an Agricultural census conducted by the Asian Development Bank (ADB), approximately $250,000 will be provided for food security assistance due to COVID-19.  The aim is to stimulate the economy, focusing on food security through farming.  State consultations are still in progress by the FSM National Government.
The current Chairman, Luhk en Moanlap, Antonio Sarapio, will be stepping down.  A new Luhk en Moanlap has been elected, Mr. Welson Panuel, and pending his swearing-in, the Association of Local Chiefs will be reorganized soon.
6. NDA handover of virtual conference equipment
On Thursday, June 24, 2021, Governor Oliver, Chief of Staff Kapilly Capelle, and Director of Treasury and Administration, Ms. Christina Elnei, officially received virtual conference equipment from Ms. Caroline Werthog, FSM National Designated Authority, National Coordinator.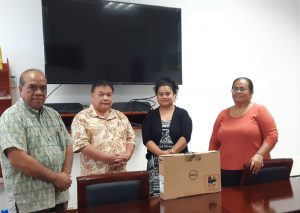 The equipment includes a Vizio monitor, Logitech virtual conference equipment, and a Dell laptop valued at over $6,000.  The equipment increases the Pohnpei State Government's ability and capacity to conduct and attend virtual conferences.  Kalahngan to the FSM National Designated Authority, for the Green Climate Fund for their generous donation.
7.  Announcement on recent Repatriation
To alleviate the fear and misunderstanding surrounding recent news about positive cases identified in pre-quarantine in Guam, here is an update as reported by Dr. Rally Jim, Pohnpei State COVID-19 Task Force Chairman to Governor Oliver.  Four individuals were tested positive while in pre-quarantine in Guam.  They along with five individuals who were known contacts of the four individuals were all placed in isolation at Guam.  No passengers who were tested positive or identified as known contacts of the positive cases were allowed to board the repatriation flight to Pohnpei on June 26, 2021.  COVID-19 vaccination continues across Pohnpei and everyone is encouraged to get vaccinated to help protect Pohnpei from the COVID-19 virus.