On Tuesday, October 25, 2022, Governor Oliver, Speaker Yamaguchi, and the Department of Education Acting Director, Mr. Pressler Martin hosted the PICS High School Robotics team and parents to a dinner reception held at South Park restaurant.  Also present were leaders of the Student Body Association from each public High School in Pohnpei, as well as the Principal of PICS High School and personnel from the Department of Education.
The PICS High School Robotics team recently returned from Geneva, Switzerland where they represented Pohnpei and the Federated States of Micronesia at the First Global Robotics Challenge, grabbing first place for small countries. Acting Director of Education, Pressler Martin noted that the aim of the challenge was to bring together teams from across the world in an Olympics-style robotics competition to work together and address climate change issues.
In his special remarks, the Governor congratulated and praised the Robotics team and their parents.  He expressed his deep pride and gratitude for their achievements in Geneva, which included building a new robot in under one day because the robot they brought from Pohnpei went missing during transit. He reminded them once again of the advice he gave them before they departed for Geneva, to use their skills in robotics to address the challenges we as Pohnpeians face in everyday life. He encouraged them to continue to learn more and more as they move forward in high school, college, and beyond.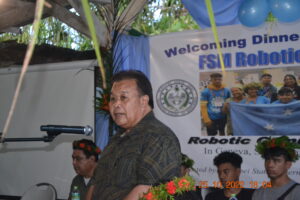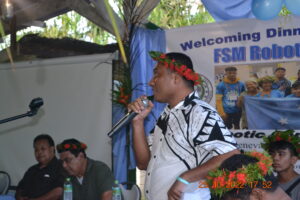 Speaker Yamaguchi also expressed his gratitude and appreciation to the team and parents for their representation of Pohnpei on the global stage.  He shared a quote by the first man on the moon, Neil Armstrong, "one small step for man, one giant leap for mankind" comparing their steps as a team to Switzerland as a giant leap for all of Pohnpei.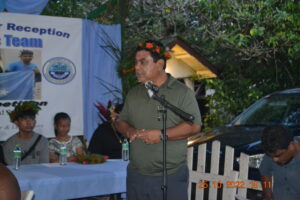 Vice Speaker McGarry Miguel had the honor to deliver the last remarks of the night to congratulate and convey deep appreciation to the students and the parents of the students.  He praised the parents, noting the challenges of raising children and seeing them off to a faraway destination for the first time.  He announced a drone program that will be introduced to Pohnpei and wanted the Robotics team to be a part of this program that will look to enhance Pohnpei's transportation and search and rescue capabilities.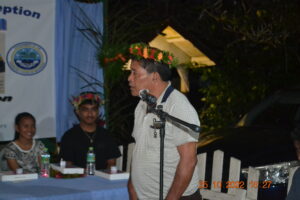 Congratulations again to the PICS High School Robotics team for representing not only Pohnpei but the Federated States of Micronesia on the global stage in Geneva, Switzerland.  Each student was presented with a Samsung Tab A tablet.
PICS High School Robotics team that went to Geneva was compromised of Mrs. Tekaeto Diopolous, Coach/Advisor, Mrs. Darla Ladore, Education Specialist, and PICS High School Seniors: Chennelle Cantero, Eberhard Salons, J.C. Curley, Einstein Halbert and Norman Pedrus.