Chinese Government contributes $20,000 to Pohnpei's COVID-19 Response Efforts
H.E. Huang Zheng, Chinese Ambassador to FSM, met with T.H. Reed B. Oliver to handover $20,000 for Pohnpei's COVID response efforts
Governor Oliver receives a $20,000 check from H.E. Ambassador Huang Zheng
Peilapalap, April 28, 2020: Governor Reed B. Oliver received a donation of $20,000 from the Government of the People's Republic of China.  Chinese Ambassador, H.E. Huang Zheng, presented the check to Governor Oliver in the Governor's Cabinet room.  
In his remarks, Ambassador Zheng spoke of 31 years of friendship with the people of Pohnpei and FSM, based on the bedrock of the One-China policy.  Ambassador shared the Chinese Government's position of leaving no one left behind during the COVID19 crisis, and updated the Governor and staff on COVID19 cases in China, stating that there have been no new locally transmitted cases in China recently.  Ambassador Zheng ended his remarks by saying that a friend in need is a friend indeed and that we can count on China as a friend, especially when we are in need. 
Governor Oliver thanked Ambassador and the People's Republic of China for their generous contribution to the people of Pohnpei, saying, "Words are not sufficient to thank you".  He noted the many projects that have benefited the people of Pohnpei through Chinese development assistance including the much-anticipated project of renovating the Pohnpei State Government Administration Building. 
A separate donation of USD 100,000 was made from the Chinese Embassy to the FSM National Government from the China-Pacific Island Country Cooperation Fund against COVID-19. Pohnpei State will also be able to access a portion of these funds from the FSM National Government. The funds will be used to purchase supplies and equipment to help Pohnpei fight the spread of COVID19.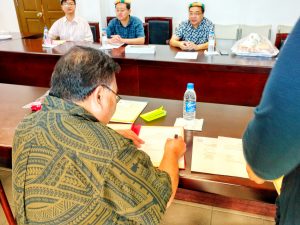 Also present from the Pohnpei State Government was Lieutenant Governor Feliciano M. Perman, Chief of Staff Mrs. Suzanne Lowe Gallen, Director of Treasury and Administration Ms. Christina Elinei who received the check from Governor to be deposited in the state's COVID19 account, Director of Health and Social Services Mr. Wincener David, Pohnpei State COVID-19 Task Force Chairperson Dr. Marcelle Gallen, External Assistance Coordinator Ms. Shirley Ligohr, and other staff from the Office of the Governor.