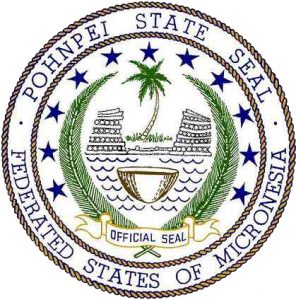 A patrol boat (FSS Independence) carrying 16 crew and 8 passengers originating from Yap via Chuuk arrived in Pohnpei on Friday, May 1 2020. Before the Medical Health team had an opportunity to screen the crew and passengers, a situation developed.
This is to inform the general public that as of 12:00 pm on Saturday, May 2, 2020, FSM National Police arrived armed at the Maritime Surveillance Port, breached security and quarantine, and removed 11 of the 24 individuals from the vessel without Medical authorization.
The current whereabouts of the 11 removed individuals are unknown at this time.  They are being asked to immediately present themselves to the current designated quarantine site at China Star in Dekehtik.  Their families and any people who have come in contact with them are being requested to self-isolate for a minimum of 14 days at home due to the possible risk of exposure.  The general public is also requested to NOT have any contact with these people and their families or anyone they came in contact with.  The 11 individuals are as follows:
Kayvin Yarotailug
Jon Jovi Jim
Wyner Manuel
Mohammad Kutty
Jefferson Teruo
Augustine Mathias
Dorothy Ann Inchin
Manex Kumos
TJ Shirai
Punathon Robert
Mayson Fredrick
Should anyone who came in contact with these individuals develop symptoms of COVID-19, such as cough, sore throat, or fever, they are strongly urged to call 320-3109.  Should any of the identified individuals or anyone who came in contact with them present to the Pohnpei State Hospital, Genesis, community dispensaries, or any health facilities, health care workers are advised to immediately inform relevant authorities and call 320-3109.
Despite these two FSM states currently being COVID-19 free and in accordance with the current Pohnpei Constitutional Emergency Order, the Pohnpei State Department of Health and Social Services has established medical screening protocols for all incoming passengers via air or sea, which include quarantine.  Around April 21 – 23, 2020, Yap State reported a PUI death due to symptoms consistent with COVID-19.  Tests of the person indicated negative results, however, it was reported that testing was only 70 percent accurate.  It has also been reported that vessels continue to visit outer islands of other FSM states without appropriate medical screening.
This information is provided to safeguard the public. The public is further informed that the above individuals are not confirmed COVID-19 cases, but may pose a high risk to the public since they have not been adequately screened using proper medical protocols.