On Friday, August 14, 2020, Pohnpei State Governor Hon. Reed B. Oliver administered oaths of office to newly confirmed members of the Board of Land Surveyors Examiners and Public Lands Trust, Board of Trustees at the Governor's Conference Room. In attendance at this important occasion were Waslapalap Sahngoro, 10th Pohnpei Legislature, Speaker Hon. Ausen T. Lambert, Lt. Governor Felciano M. Perman, Director of Land/WahsahiSokehs Peter M. Lohn, Senior Pastor/Former FSM Congress Speaker Bethwel Henry, several honorable members of the legislature, cabinet members, spouses and relatives of the Board members, friends and government employees.
In his opening remarks, Governor Oliver welcomed everybody and extended his special thanks to Speaker Lambert, Chairman of Committee on Land, and the 10th Pohnpei State Legislature for their cooperation and support to confirm the members of these two important Boards. He highlighted the crucial roles both Boards play in the service and management of our most valuable resource/possession; our land. Speaker Lambert echoed similar sentiments on the importance of their roles and encouraged proper discharge of the duties and responsibilities called for in the administration of public lands held in trust by the government.
The Board of Land Surveyors Examiners are:
1. Mr. Alex Nanpei
2. Mr. Kuhmer Biza
3. Mr. Marcelino Actoucka
4. Mr. Rensper Alpet
For the Public Lands Trust, Board of Trustees they are:
1. Mrs. Antonia Primo-Moses, Likend U
2. Mr. Esirom Neth
3. Mr. John Nakanaga
4. Mr. Patterson Shed
5. Mr. Max Lebehn
6. Mr. Wayne Mendiola, Jr.
7. Mr. Lewis Santos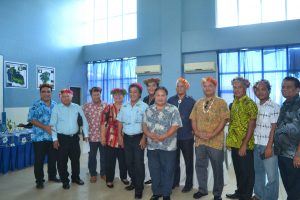 Mr. Alex Nanpei represented the Board of Land Surveyors Examiners and Likend U, Mrs. Antonio Primo-Moses represented the Public Lands Trust in giving short remarks thanking Governor Oliver, Speaker Lambert and Legislature for the opportunity to serve on these Boards.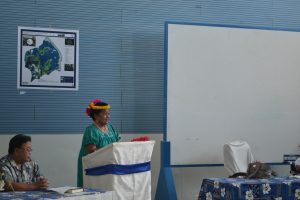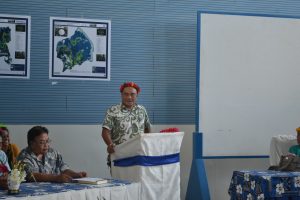 Congratulations to the newly sworn-in Board members!
The full ceremony on video will be available on Pohnpei Public Broadcasting Corporation's Facebook page and Youtube Channel.