On Monday, January 25, 2021, T.H. Reed B. Oliver, Governor of Pohnpei State, and First Lady Estle G. Oliver attended the opening ceremony for Education Day 2021 at the PIC High School Cafeteria Gym.  
Opening remarks were made by Mr. Franky Edward from the Board of Education and Principal of Pohnpei Adventist High School.  He noted the hardships that students have felt in the last school year with the COVID-19 pandemic and temporary closures of schools.  He encouraged the students, staff, and parents to stand strong noting that trials and tribulations are part of life, and unity ensures victory.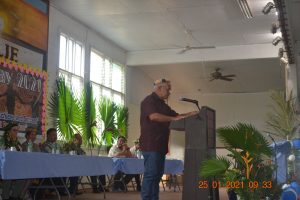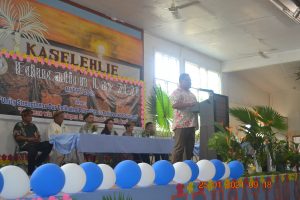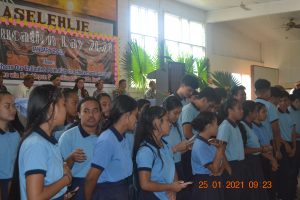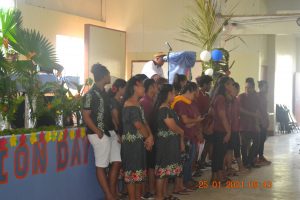 The keynote speaker of the event next spoke.  T.H. Sonster Edgar, 10th Pohnpei State Legislature Senator (PSL) from U, Nansahu Ririn U and former schoolteacher and Principal, also Vice Chairman of the Education Committee.  Senator Edgar's remarks started with a verse from the book of Ecclesiastes Chapter 3, verse 1, counseling us all that there is a time for everything under the sun.  He shared the importance of Education, saying that Education makes one more valuable, allows one to grow, and that without an Education, life can be hard.  Senator Edgar also commented and praised the current accreditation system in place that ensures student achievement and success continues.  He praised the Education staff for coming up with this year's theme, "Unity Strengthens our Unlimited Potentials to Achieve and Succeed – Ehupene Kakehlaka Sapwelimatail Pweidahkan".  Senator Edgar said of the theme, that unity equals strength and closed by expressing gratitude for being a part of this rewards and recognition event.  
After a song about Unity and Strength by the Nanpei Memorial High School Music Club, T. H. Reed B. Oliver, Governor of Pohnpei State, delivered his remarks.  He thanked the Director of the Department of Education, Mr. Stanley Etse, and his staff for arranging this event and inviting him and the First Lady.  Governor Oliver congratulated and challenged the students who were being recognized for their achievements.  "What's next?", Governor Oliver asked. "How will you use your achievements?" He noted the advances in technology today, that continue to take us forward making our lives better.  He advised the students that even with all the latest technology he encouraged all students to continue to read books.  He encouraged the students to also reflect and ask themselves how can they contribute to their family, their community, to Pohnpei, and the Nation at school and at their homes.  In saying this, he noted Mr. Edward's remarks that when we take care of small things, bigger things can be taken care of as well.  Governor Oliver shared three virtues that he has shared on many occasions, across Pohnpei, for the students to remember and use as they continue their academic journey and beyond: Respect, Responsibility, and Honesty.  He closed by expressing gratitude to the teachers, principals, education staff, and parents of the students, including the Parent-Teacher Associations, once again referencing Education Day's theme of Unity as a way to strengthen, achieve and succeed. 
Closing remarks by the Director of the Department of Education, Mr. Stanley Etse, started with thanks to all the staff who sacrificed their weekend to set up the Education Day event.  Thanks to the speakers for their words of inspiration, thanks to all the donors including the Diplomatic Corps for their support.  He invited everyone for next year's Education Day 2022.  He shared a quote by Milton Hershey "Give them quality.  That's the best form of advertisement in the world", and closed by saying that providing quality is the best assurance for all stakeholders and education leaders moving forward to achieve and succeed.  
Also present at the ceremony was Deacon Patrick Paul who opened the ceremony with a prayer and WP Hamilton Soar gave the benediction.  Chairman of the Board of Education, Mr. Grilly Jack, Board member, Phyllis Silbanuz, US Embassy Charge' D'Affaires Sommers, Australian Embassy Charge' D'Affaires, Mr. Takuro Steele, Acting FSM Secretary of Education, Mr. Wayne Mendiola, From 10th PSL: Senator T.H. Mitaro Simina, Senator T.H. Jayson Walter, Senator T.H. Ricky Carl, Nett District Administrator, T.H. Nelsin Iriarte, Kolonia Town Mayor, T.H. Beterigo Jacob, Acting Meninkeder Madolenihmw, Mr. John Rensle.