Thank you to the Embassy and the People of Japan for your generous support.
In a handover ceremony on Friday, May 21, 2021, at Dekehtik, His Excellency Sobashima Hidenobu, Japanese Ambassador to the Federated States of Micronesia (FSM), handed over the keys to a new recycling center building to Governor Oliver, who then handed the keys over to the Environmental Protection Agency's Executive Officer, Mr. Henry Susaia.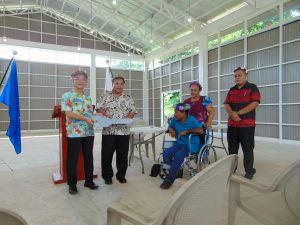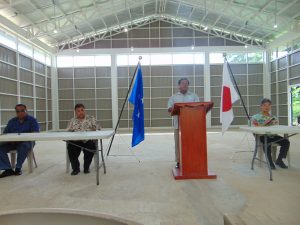 In his opening remarks, Chief of Staff Kapilly Capelle spoke of the increased capacity that Pohnpei State will realize through the Embassy of Japan's support with the new recycling center and a forthcoming recycling machine. Ambassador Sobashima explained that an additional four million cans will be recycled with the increased capacity, along with better parking and the habit of recycling instilled in future generations.
Governor Oliver thanked Ambassador Sobashima on behalf of the people of Pohnpei for this project and the many projects from the Embassy of Japan that have helped the people of Pohnpei and looked forward to more projects in the future. In closing, he thanked the Embassy of Japan, Office of Environmental Protection Agency (EPA), Office of Transportation and Infrastructure (T&I) for the coordination and support, and Pacific Landscaping and Engineering Company (PLEC) for the construction of the building.