Kalahngan lap to U.S. Embassy Kolonia Chargé d'affaires Alissa Bibb, Defense Attaché' Commander Thomas Price, and the U.S. Navy Seabee team under the command of USAF Capt. Randall Draeger.
Governor Oliver hosted the U.S. Embassy and Seabees team for a Christmas Dinner at the Governor's residence, Fort Richie, in Nan Pohn Mal, Nett. In his welcoming remarks, Governor Oliver acknowledged the strong bonds of cooperation and friendship between the U.S. Embassy and the Pohnpei State Government through the FSM National Government. He expressed his gratitude to the Seabees and the U.S. Embassy staff, who are all away from their homes during the holiday season, for their sacrifice, hard work and support of the Pohnpei State Government and people.
Governor Oliver also acknowledged the Director of the Department of Public Safety, Patrick Carl, Acting Director of Health Services, Dr. Nora Liwy, and Dr Kabe Vakadem for their hard work and dedication during an eventful year that included a COVID-19 outbreak.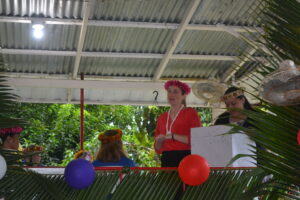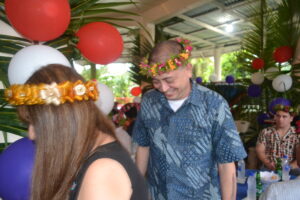 Chargé d'affaires Alicia Bibb also delivered short remarks to thank Governor Oliver for his hospitality on behalf of the U.S. Embassy and U.S. Navy Seabee team. Capt. Draeger presented a command challenge coin to Governor Oliver on behalf of the Seabees team and thanked the Governor for inviting him and his team to a memorable Christmas Dinner.