Congratulations to Nanpei Memorial High School (NMHS)! The winners of the 2nd annual Jeopardy High School competition.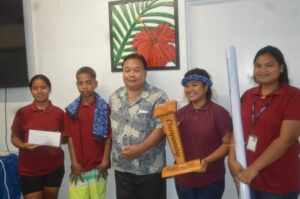 NMHS won with 100 points in an academic competition that included subjects like math, social studies, writing, and Pohnpei studies.  Other high schools that participated included PICS High School, Madolenihmw High School, PCS High School, SDA High School, Our Lady of Mercy High School, and Calvary Christian Academy (CCA).
The Honorable Herolyn Movick, Pohnpei State Senator and Chairperson of the Public Works, Transportation, and Communication Committee delivered remarks during the opening ceremony.  She noted that while the students are competing in a game today but the same principles they are using to win the competition are the same principles that apply in the real world, "the foundation is built upon from elementary to high school and college and then to the real work: hard work, dedication, and determination."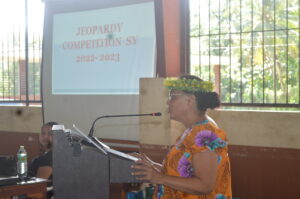 The Honorable Reed B. Oliver, Governor of the State of Pohnpei also delivered remarks before the competition. He spoke of timing and being punctual as being a way to show respect. Governor Oliver told the students that whatever the students achieve in the competition, they are all great and the best of their schools. He noted that education is a lifetime process and is very proud of each of the students, hoping that this competition will continue in the coming years.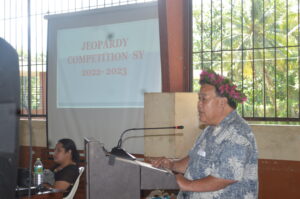 After the competition which was held at the Pohnpei Gymnasium (PICS gym), the students were treated to a luncheon where trophies were awarded along with a banner to the winning team to hang proudly at their school.
1st Place: Nanpei Memorial High School
2nd Place: SDA High School
3rd Place: Our Lady of Mercy High School