Governor Oliver welcomed Counsellor Pooja V. Vernekar from the Embassy of India to Peilapalap on Monday, March 13, 2023.
During the introductory meeting with Governor Oliver, Counsellor Vernekar was accompanied by Deputy Assistant Secretary Kalvin Ehmes from the Federated States of Micronesia (FSM) Department of Foreign Affairs. Counsellor Vernekar shared training and funding opportunities from the Government of India and listened to the Governor and members of his cabinet who were present share their needs for Pohnpei State. Governor Oliver expressed his appreciation to Counsellor Vernekar for her visit. He looks forward to continued aid and cooperation from the Republic of India, noting India's recent grant assistance to Pohnpei Utilities Corporation (PUC) through the FSM Department of Health and Social Affairs for the procurement of water well materials to construct two new wells.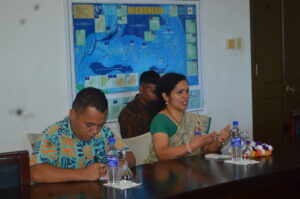 Joining Governor Oliver to welcome and meet Counsellor Vernekar was the Director of Education Mr. Stanley Etse, the Director of the Department of Public Safety Mr. Patrick Carl, Acting Director of Resources and Development Ms. Michaela Saimon, Public Affairs Officer Mr. Peteriko Hairens, Overseas Development Assistance Coordinator Ms. Shirley Ligohr and Protocol Officer Mr. Emerson Eperiam.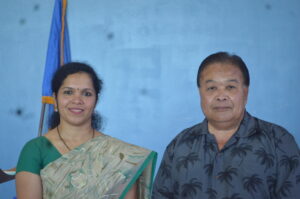 The Government of India established diplomatic relations with the Federated States of Micronesia in November 1996. The Embassy of India is located in Metro Manila, Republic of the Philippines.