On August 20, 2020, Lieutenant Governor Feliciano M. Perman represented Governor Reed B. Oliver at the Kahmar, Nett Bridge hand-over ceremony. In a symbolic hand-over of the Kahmar bridge from the People's Republic of China (PRC) to the Federated States of Micronesia (FSM, Pohnpei State, and Nett Municipality), a framed photo of the bridge was presented by Mr. Wu of China Railway Construction Company to Ambassador Huang Zheng then to FSM Vice- President George then to Pohnpei State Lt. Governor Perman who finally handed over to the Nett District Administrator Hon. Nelsin Iriarte.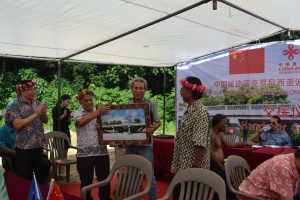 H.E. Huang Zheng and T.H. Yosiwo P. George's remarks highlighted the relationship between China and FSM founded on the bedrock of the One-China Policy. This relationship and the many infrastructure projects completed in the FSM. T.H. Yosiwo P. George, on behalf of President Panuelo, thanked Ambassador Huang and the Government of PRC for its generous assistance to the FSM. "The bridge will be a long-standing symbol of the friendship between the People's Republic of China and the People of FSM," he said.
In his remarks, Lt. Governor Perman echoed similar sentiments expressed by Vice President George by thanking the Government of PRC for various programs and projects to Pohnpei State. In addition to Kahmar Bridge, the secondary roads and the Farm Pilot Project in Madolenihmw, the Pohnpei State Government Administration Building, and its expected renovation.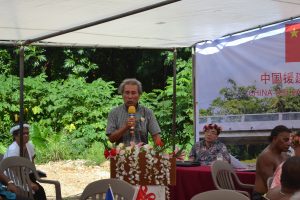 Iso-Nahnken of Nett thanked Ambassador Huang Zheng and the China Railway Construction Company for the bridge on behalf of his people and his Kingdom of Nett. He noted that the completion and opening of the bridge is highly anticipated because ease of transportation is very important for the communities in Nett.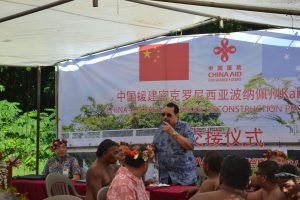 Following the remarks made by the dignitaries, Nahnkeniei Nett led the spouses of the dignitaries to the Bridge and performed the ribbon-cutting ceremony.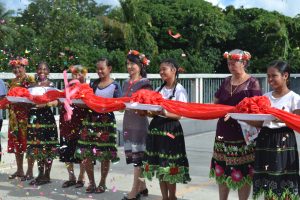 Dignitaries at the hand-over ceremony included His Royal Highness, Salvador Iriarte, Iso-Nahnken of Nett, His Excellency Huang Zheng, PRC Ambassador to FSM, Hon.Yosiwo P. George, Vice President of the FSM, Hon.Felciano M. Perman, Lt. Governor of Pohnpei State, Hon. Ausen T. Lambert, Speaker of 10th Pohnpei Legislature, Hon.Kandhi Eliesar, FSM Secretary of Foreign Affairs, Hon. Carlson D. Apis, FSM Secretary of Transportation, Communication and Infrastructure, Nett District Administrator, Hon. NelsinIriarte and Nett Municipal Chief Justice and Soukahmar Hon. Inos Ponapart.